Forbidden Love and a Mother-Daughter Divide in 'Sand Storm'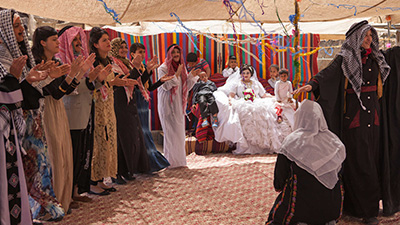 Sand Storm, Israel's 2016 Oscar entry for Best Foreign Language film, tells the story, in Arabic, of a Bedouin family whose ancient tribal strictures are threatened by a new generation influenced by modern Israeli society.
The sparse, sensitive film, written and directed by Jewish Israeli Elite Zexer, 35, has won global acclaim despite—or because of—the absence of big-name stars, shootouts or steamy sex scenes. The erotic highlight consists of a young woman taking off the hijab covering her hair in the privacy of her bedroom.
The film opens with a battered pickup truck rolling through the stark landscape of the Negev Desert. Eighteen-year old Layla is at the wheel, getting a driving lesson from her father, Suliman.
The warm family scene shifts abruptly when the two return home to their rundown desert town and are told by Jalila, wife and mother, that it is time to prepare for the wedding of Suliman to a second, much younger woman.
At the wedding reception, the female guests dance—when not talking on their cell phones—while Layla stands to the side, remaining on the edges of the party. She is studying Hebrew literature at nearby Ben-Gurion University, where she breaks strict taboo by meeting surreptitiously with a male student. Such a situation could only bring shame to her parents and ruin the chances of her sisters to find respectable husbands.
Zexer worked 10 years to complete the film, her feature debut. Sand Storm, she notes, highlights the shifting emotions and tensions between mother and daughter across a generational divide, which gives the movie its universal appeal.
Sand Storm, which was brought to the United States by Kino Lorber film distributors, is being shown in film festivals and commercial theaters in over 20 cities through 2017. Go to the Kino Lorber site for play dates.