Laughter, the Best Medicine for Aging
An elderly gentleman walks into a bar, sits down next to an elegant woman and says, "So tell me, do I come here often?"
This oldie but goodie is one of the jokes William Novak peppers throughout his new book, Die Laughing: Killer Jokes for Newly Old Folks
 (Touchstone). Previously, he co-edited, with Moshe Waldoks, the seminal The Big Book of Jewish Humor.
The 68-year-old Novak, a well-regarded ghostwriter for the likes of Nancy Reagan, Lee Iacocca and Magic Johnson, realized he "can't stay middle-aged forever" and wanted to approach the next stage of life with laughter. Laughter, he said, strengthens the immune system, reduces stress, lowers blood pressure and increases the ability to tolerate pain.
"Of course," he admits, "a lot of things have a real benefit. But how many of them are actually fun?"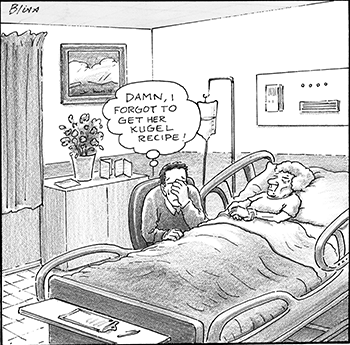 It's not all New Yorker cartoons and jokes—some borrowed (Joan Rivers: "My breasts are so low, now I can have a mammogram and a pedicure at the same time") but most revised. Novak organizes all the chapters into topics, from memory loss ("Remind me, was it you or your brother who died last winter?") to body dysfunction, to doctors ("Doctor, can you help me out? Certainly. Which way did you come in?") and long marriages.
A short, semi-serious research piece introduces each chapter. For example, one introductory essay cites the health benefits of a good marriage, while another calls out sex in old age ("there may be snow on the roof but in many cases there's still fire in the furnace.")
"Dad likes to get as many opinions as possible when assembling a humor book, so all of us in the family got packets of hundreds of jokes and cartoons while he put together 'Die Laughing,' and we'd all vote on our favorites," said son B.J. Novak, executive producer, writer and actor on "The Office." Growing up, many of the jokes that made it into his father's humor book were a conversational shorthand in the Novak house. "These classic jokes were really part of our family language."