A Conversation With Ruth Gruber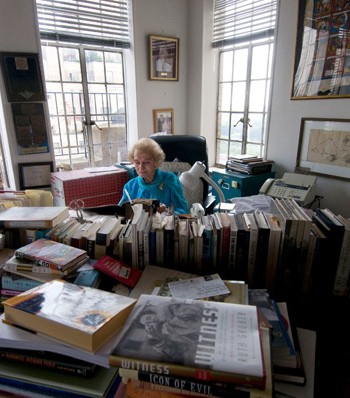 Trailblazing photojournalist Ruth Gruber celebrated her 100th birthday on September 30. Her story reflects a pioneering life lived to the fullest. She became the youngest Ph.D. in the world at age 20 and covered stories no one else did. The first journalist allowed into the Soviet Arctic (1935), she also reported on the voyage of the Exodus, the events of which were published in her book Exodus 1947: The Ship That Launched a Nation
 (Union Square). She made history herself, sent on a secret mission to escort a thousand refugees from war-torn Europe to Oswego, New York, in 1944 and cultivated relationships with world leaders like Eleanor Roosevelt and David Ben-Gurion. Her life has, in turn, been material for an autobiography, Ahead of Time: My Early Years as a Foreign Correspondent
 (Carroll & Graf), an award-winning documentary film of the same name, a four-hour CBS mini-series (Haven: The Dramatic Story of 1,000 World War II Refugees and How They Came to America) in 2001 and a photographic exhibition that is still on display. We caught up with her at this milestone occasion.
Q: What purpose does journalism serve for you?
A: It makes me look into my soul to find my tools—words and images—and I use them to fight injustice.
Q: Can you describe three of the greatest moments of your life?
A: Bringing the thousand refugees to America while war and the Holocaust raged. Covering the ship Exodus. Giving birth to two brilliant children.
Q: You have captured many historic journeys with your camera. There are some well-known photos of you. In one photo, you are in a fur parka looking into the camera. If someone were to capture your image in a photograph today, what would it reflect about you?
A. This parka was made for me in Alaska by an Eskimo woman. I was fascinated by the joy and life that she showed while I watched her making my parka. If they took a photo of me today, I hope it would show my joy in being alive.
Q: You have been so busy all these years. How do you keep going?
A: Four easy words: Never, never, never retire.
Q: You have been called the eyes and conscience of the world. What do you see today that demands attention?
A: The need for peace in the world. Despite the horrible things that are happening in the Middle East, I still want to believe what David Ben-Gurion told me just before he died: "There will be peace between the Arabs and Jews. Not in my time, but maybe in your children's."
Q: What are some of the themes that have run through your life?
A: To be adventurous, to try to understand how people feel when I interview them, to be a mentch.
Q: How does journalism today compare with journalism in the heyday of your career?
A. We were more polite. If people wanted to hide their deformities, as President Franklin Delano Roosevelt did with his polio-ridden legs, we were careful never to mention them.
Q: How did you balance family and career?
A: It was tough.
Q: Does longevity run in your family?
A: My mother lived a few months short of 100.
Q: Can you provide an update on your family?
A: My son, Dr. David Michaels, is executive director of OSHA [Occupational Safety and Health Administration] and assistant secretary of labor. My daughter, Celia Michaels-Evans, worked for CBS for 10 years and was the sole video editor during the first Gulf War. I have four grandchildren: Michael and Lucy Evans, and Joel and Lila Michaels. The girls, of course, are raving beauties and all four are ordinary Jewish geniuses.