Inheriting Thanksgiving from My Mother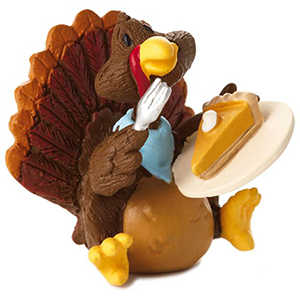 My mother, a Sophia Loren beauty with a Carol Channing spirit, blows through life with the strength of hurricane force winds while maintaining a dignified grace and composure. She was a stay-at-home mom who ran our household with elegance and precision. She cared about minutiae that I, as a working mother, never even thought to consider. "What is the best pâté for Beef Wellington?" she would muse; I looked for the best pizza delivery service. She paid the bills on the day they were delivered; I just tried to avoid late fees. Her sheets were ironed; mine, barely folded. I thought my domestic skills were good enough; she knew hers were flawless.
We each needed to believe we chose the right path. She needed to know her efforts in the home were appreciated by her family. I needed to know breaking the glass ceiling was not detrimental to mine. I believed I could do it all—it just wouldn't be perfect. She knew she couldn't do it all, but what she did would be perfect. Our contrasting lifestyles were magnified at Thanksgiving dinner.
My mother hosted White House-worthy holiday dinners. Her mahogany dining table was dressed with the finest white Irish linen tablecloths and matching linen napkins. Her Rosenthal china plates were flanked by freshly polished sterling silverware. She held the Baccarat crystal water goblets and wine glasses up to the light, inspecting them for smudges, before they were placed on the table. Magnificent color-coordinated flowers and chocolate candies added the sensual dimensions to our dinner. "Be careful," she warned repeatedly as we self-consciously ate our meals.
After a while, we would relax and enjoy our food. Predictably, between the salad and the turkey, my father would chime in with "Let's go around the table and tell what we are thankful for." His innocent request caused us to panic as we searched for answers lofty enough to make him proud, yet humble enough to avoid nauseated eye rolls from our siblings.
As the years passed and my parents grew older, the time came when they could no longer host the dinner. The thought of opening up the dining room table and putting in the leaves, pulling out the china, dragging the folding chairs from storage and all the other associated tasks was just too much. Of course, we offered to help, but they could not bear to be relegated to observers in their own home.
I am married with my own family and have moved from my parents' home in Miami to my husband's hometown, Baltimore. Suddenly, I am no longer attending Thanksgiving dinner; I am hosting. For the first time, my parents, sister, brother-in-law, niece and nephew are making the trek to Baltimore to experience the holiday in a true autumn setting.
The days approaching their arrival spin like cherries in a slot machine. How will I find the time to shop, cook, polish and dust? How can I possibly compete with my mother? What will I use for place settings? What will I cook? I had prided myself on my ability to "do it all." I was convinced that I could balance my burgeoning career with family and homemaking responsibilities. Now, my reality is challenged. Thanksgiving better be great.
Since I know I cannot come close to reaching my mother's level of elegance, I try for festive. I make numerous trips to Bed Bath & Beyond and compulsively buy turkey-decorated tablecloths, saltshakers, platters, butter knives and a Happy Thanksgiving sign to hang on the front door. Later, at a Hallmark store in the mall, I find giant paper turkeys. Then, a few stores down, I am delighted to discover singing turkeys. The first one I see is about 18 inches high and proportionately wide. He is made from soft brown fur and wears a straw hat. I push a button on his foot and he starts dancing while singing "Turkey in the Straw." My second turkey is similar in size, but he sings "A gobble gobble gobble and a peck peck peck…." By Thanksgiving day, I find three more turkeys; they don't sing but they are adorable little dancers. My turkey family of five, I am convinced, will become an invaluable addition to my evolving holiday traditions.
With the décor set, I turn my angst to the food. My mother cannot believe that I am going to do the cooking. Over the phone she protests, "Please, let me get you a caterer."
"No, thank you."
"How about if Daddy and I pick up prepared food and bring it over?"
I assure her, and myself: "No, it will be fine."
Thanksgiving morning my sister helps prepare an Italian salad. We also bake moist, delicious challah stuffing; marinate a beef tenderloin for my red meat-eating guests; and cook various casseroles. We wash the 20-pound turkey inside and out and rub it with garlic, oil, salt and pepper. I place the bird in a baking pan, set the meat thermometer to 140 degrees, liberally dust the bird with paprika and let it roast.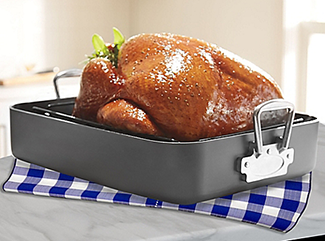 Later that evening, we finally sit down at my turkey-themed dining table. It definitely isn't elegant, but it is fun. We eat our salads and pass the rolls. The tenderloin looks perfect and the casseroles smell delicious. And then, the big moment: I present the turkey. Everyone applauds, and my brother-in-law offers to carve. With the knife in his right hand, the fork in his left, he bends over, studies the bird and begins. He presses down hard, but the knife refuses to penetrate the breast. Finally, his face flushed from effort and embarrassment, he mutters, "I don't know what's wrong—I can't get the knife to go through." He looks at the knife and confirms that it's sharp. My father, shaking his head at his inept son-in-law, gets up and says, "I'll do it." All eyes are on my father as he attempts to carve the plump bird. Soon, he puts the knife down and doubles over, laughing so hard he can't get the words out.
"I can't get the knife in because it's upside down!" He looks right at me. "You're serving the turkey upside down!" We are all hysterical. I am laughing too hard to be embarrassed. But my mother laughs the hardest.
I wonder how she really feels about our different approaches to the holiday. She gave so much of herself to our home and family, does my laissez-faire attitude toward domesticity diminish her self-value? While I admire all the beauty she created in our lives and treasure how she made the "little things" so special, I am not motivated to excel in this arena. I try my best to balance my life, but sometimes there will be upside-down turkeys.
Laura Black is a community leader, attorney, businesswoman and writer. She is the author of Big Butts, Fat Thighs, and Other Secrets to Success (Cazco Press, 2012). Her articles have appeared in national and international publications.