Celebrating Thanksgiving, in Israel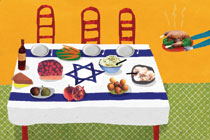 I have always been a Thanksgiving enthusiast.
Growing up an observant Jew and the rabbi's daughter in a fairly non-Jewish Long Island town, we didn't celebrate the "lo­cal" holidays. That meant Valentine's Day and Halloween trick-or-treating were out—although I did once sneak out and go trick-or-treating without a costume, hoarding all the verboten candy under my bed. The Fourth of July was easier from a theological point of view, but we did not even own a barbeque. I know, patriotic heresy.
Thanksgiving, however, was sac­ro­sanct. It was celebrated with cous­ins from my father's family who, des­pite being fish-eating vegetarians, were happy to dedicate one day each year to turkey. We switched off hosting duties, eating fish as well as tur­key at their New York apartment one year and tur­key with vegetarian-friendly side dishes at our house the next.
But, as tends to happen, things changed. My cousins got di­vorced, two of my older siblings got married and moved to Is­rael, and my parents followed them after I graduated college. One of my sisters and I continued celebrating Thanks­giving, sometimes at her house with her husband and his family—once with a tofu turkey (she was vegetarian at the time)—and in subsequent years with our aunt, uncle and cousins.
And then, 14 years ago, I moved to Israel. By that point, my parents, sister and brother had created their own traditions in their new land. My parents would go with friends to one of several Jerusalem restaurants offering a Thanksgiving menu on the given Thurs­day, while my brother and sister celebrated with their own crowd. My brother's holiday crew was primarily Ang­lo, as immigrants from the various English-speaking coun­tries are called in Israel, but they often postponed their celebration until Decem­ber. That was too lax for me. My sister toted her tur­key to a different group of friends: her Amer­icans-married-to-Israelis circle, with whom she celebrates to this day.
But instead of joining forces with them, I decided it was time to forge my own expatriate traditions.
It was complicated. For starters, Thanks­­giving Thursday isn't a vacation day in the Holy Land. We don't have an entire day to shell chestnuts, stuff turkey and watch football. As a result, some American-Israelis celebrate on Fri­day night, but that never seemed ko­sher to me. I was determined to observe Thanksgiving on the ap­point­ed Thursday of November, even if it meant taking off from work.
Then there was the matter of ac­quiring a turkey. There are no whole Empire Kosher turkeys sitting in the su­permarket freezer case, nor are heri­tage turkey breeds available through mail order. You have to or­der yours fresh—although it is generally fro­zen—a few weeks in advance from the butcher. And there are no big birds available. The largest one can find is maybe six to eight pounds; no twenty-two-pound birds. So if the crowd is big, you have to consider two turkeys.
And that is before preparing the side dishes—cranberries, pumpkin and stuffing. When I moved here, there were no fresh or frozen cran­berries available, just hard-to-find canned cranberry sauce that is no substitute for the real thing. For pumpkin pie, I had to head to the vegetable stand and buy a chunk of fresh pumpkin—a slightly more wa­tery version than what's found in the States—that I cooked and roasted for use in pies, pumpkin breads and muf­fins. When I needed port for a fig-cran­berry relish from Bon Appetit mag­­azine (see rec­ipe, page 26), I settled for sweet Kid­dush wine. At least the chestnuts I needed for stuffing are ac­tually in season in Israel in November.
And so, traditions developed. If anyone was heading to the States in the weeks before Thanksgiving, they had to bring back at least three bags of frozen cranberries. Or if visitors came from the States during the season, they were ensured an invite to the do, as long as they imported said cranberries. That has often meant a surplus of cranberries as more than one person takes this mission seriously; but it also means we have extra bags of those bittersweet berries in store for the rest of the winter.
My friend Rachel in Phila­del­phia has taken to sending seasonal treats, from one-pound bags of candy corn, fall-themed paper goods and foldout turkey centerpieces to Thanksgiving pot­hold­ers, pumpkin-scented candles and, once, a wicker basket cornuco­pia. Her gifts al­lowed me to stop draw­ing my own turkey cutouts or downloading the time-consuming do-it-yourself decorations from the He­w­lett-Pack­ard Web site.
There were the snafus, of course. In the days when a kerosene oven heat­ed my apartment, I tried roasting chestnuts in a pan on top of the stove—the Israeli version of an open fire—but even though that method works for cholent, it does not for chestnuts. And then there was the year when my over­worked kitchen oven burst into flames; fortunately, it was af­ter the turkey was cooked and carved.
The locals are charmed by these quaint American customs. My butc­h­er is always amused by the tur­key orders that come in a flurry in the weeks before Thanks­giving, and I sense that there is now a greater stock of canned pumpkin and cranberries in many stores come November. (Al­though the cranberry availability could be thanks to the nearly one million Rus­sians who made aliya in the early 1990s. Rus­sians reportedly discovered the healing power of the cran­­­berry centuries ago, often prescribing it for colds; they used to having easy access to the Great Cran­berry Belt in Russia, which spreads for hundreds of miles.)
There has also been a steady stream of visitors from abroad during the last weeks of November, and while it could be because airline tickets are slightly cheaper this time of year, I think the real reason is we offer a great al­ternative to the family Thanks­giving.
Over the years, my holiday guests—which always included about 12 people—has shifted and blended as my group of friends has married and moved, partnered and parented. There were years when the presence of some­one's new boyfriend or girlfriend could be a deciding factor in whether there would be both sweet potatoes and mashed potatoes. The holiday has be­come an opportunity to present new faces to the crowd, including Daniel, now my husband.
Some things have remained constant: Lesley always makes the sweet potatoes with candied pecan topping; Hadass checks out her gourmet bro­th­er's menu before deciding on that year's appetizer; Devorah is the ap­pointed bartender. We have also re­lented and invited non-Ameri­cans—Israelis, Brits and the occasional Gaul, as long as they prom­ise to eat turkey. And we allow local versions of Thanks­giving-like dishes, such as Je­ru­salem artichokes, because it is a fall root vegetable. After all, if you can import traditions, why not create new ones?
When I married Daniel, a fellow American, three years ago, we discovered that both of our expatriate families are Turkey Day celebrants, and we had to figure out a way to combine celebrations and friends.
The first year was an enormous gathering of about 60 people—his, mine and ours—and two turkeys. The following year I gave in and let my sister-in-law host Thanksgiving at her place with a follow-up on Friday night at my place, but without all of my regulars. It has caused a few years of tensions as we debate who gets to host and who gets to make the turkey.
There is also more than one maker of mashed sweet potatoes with candied pecan topping (my mother-in-law as well as Les­ley), since we try not to ruffle too many feathers. And last year, my husband came home from a business trip to the States with three one-pound bags of frozen cranberries from Cost­co—minus the oth­er three bags he forgot in his friend's freezer back in Boston. Needless to say, for the rest of the winter we gorged ourselves on cranberry muf­fins, cranberry bread, cranberry relish and, my specialty, pressure-cook­er cranberry pudding.
We have moved far from our sit-down dinners for 12, es­pecially since my last sibling and her family made aliya two years ago, adding an­other five to the crowd. But I have learned that more really is merrier and that different groupings of friends can mesh well. Anoth­er family that I know in Zi­khron Ya'akov in­vites every­­one they know—she is Is­raeli, he's Amer­ican—and they often host more than 90 people. I am determined to let them be my role model.
Nevertheless, we still don't celebrate with my other siblings and their friends—those celebrations are sa­cred, even if they are on the wrong day. But if I have two versions of sweet potatoes, a variety of stuffings and too many cranberry dishes, I just don't care. As long as the turkey is moist, the decorations ap­pro­priate and there is a football game—Tivo'd or taped—playing down­stairs for those who need it, it all works.
Now that we are expecting twins later this month, coinciding with our favorite American holiday, we may yet learn of a whole other facet to this tradition.
But we'll adjust.
---
Fig-Cranberry Relish 
Adapted from Bon Appetit magazine. Serves 6.
1 2/3 cups Kiddush wine
1/4 cup balsamic vinegar
1/4 cup light brown sugar
8 figs (dried or fresh), stemmed and chopped
1 sprig rosemary
1/4 tsp black pepper
3/4 cup sugar
12 oz fresh cranberries
1. Combine wine, balsamic vinegar, light brown sugar, figs, rosemary and black pepper in a saucepan.
2. Simmer for 10 minutes at medium-high heat until sugar is dissolved and mixture starts to bubble.
3. Remove rosemary. Add cranberries and 3/4 cup sugar.
4. Cook over medium heat for about 6 minutes. Cool and serve cold.
This story originally appeared in the October/November 2008 issue of Hadassah Magazine.