The Television Project: Jewish Culture in Advertising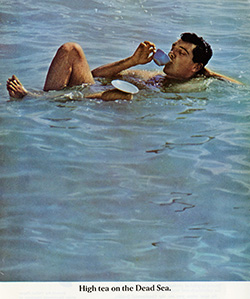 Comedian Gilda Radner models skintight, lilac-toned "Jewess Jeans"; an African-American boy munches happily on Levy's Rye Bread; and a man sips tea while floating on the waters of the Dead Sea. These are three of the images in the one-room exhibition, "You Don't Have to Be Jewish," on display at New York's Jewish Museum through February 12, 2017. The exhibit explores commercials produced with Jewish content and features both video and print campaigns, many using humor to attract a diverse audience.
A seven-minute compilation video includes the Radner spoof from Saturday Night Live! satirizing ads for Jordache Jeans; three 1960s commercials for Manischewitz wine (one with Sammy Davis Jr.); and more.
The show is the third installation in the ongoing series The Television Project, assembled from the museum's National Jewish Archive of Broadcasting, a collection of more than 4,000 radio and television recordings dating back to the 1930s and the largest collection of broadcast material on 20th-century American Jewish culture in the United States.
"The programs in the NJAB constitute an important record of how Jews have been portrayed or portray themselves," says Jaron Gandelman, who curated the current exhibition. They reflect "how the mass media has addressed issues of diversity, ethnicity and religion."
The two previous exhibitions featured the brilliance of writing, directing, performance and production ("Picturing a People") and how television approached anti-Semitism ("Some of My Best Friends"). Further installments in the series are in the works.