Rabbis Recall Their Most Unusual Gifts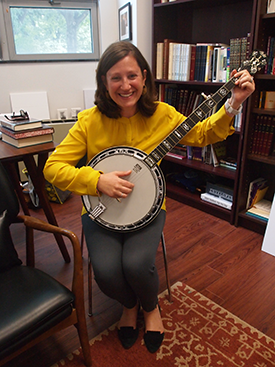 Judaica. Jewish-themed books or artworks. A donation to a synagogue fund or other favored charity. Those are the traditional gifts that rabbis receive. But a banjo? A restaurant napkin holder? A possible tombstone?
As Hanukkah approaches, a time for gift-giving for some, we decided to look at some of the atypical gifts rabbis have received—for all kinds of occasions.
When a congregant walked into a meeting with Rabbi Lauren Holtzblatt over the summer, he was carrying a banjo, and she wondered if he was taking lessons.
It turns out that the congregant, using bar mitzvah money, had bought the stringed instrument more than 30 years ago, but never really got into playing it. When he heard Holtzblatt play a banjo during the Return Again musical service she co-leads at Adas Israel Congregation in Washington, D.C., he told her he had figured out why he had held onto it all these years: "It needed a new home, and you are it."
"What a gift," says Holtzblatt, noting she now regularly plays the banjo for Return Again and High Holiday services.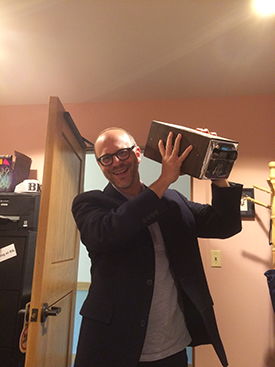 The McDonald's napkin holder that Rabbi Elliott Tepperman received was inspired by a Yom Kippur sermon he had given in 2005 on the prophet Isaiah's call to fight injustice in the world. In it, he talked about an anti-war demonstration in the 1990s that turned into a riot, with people tearing apart a nearby McDonald's. He had participated by grabbing a napkin holder and smashing it. "I wanted to smash idolatry and I inadvertently found myself practicing it," Tepperman, the rabbi at B'nai Keshet in Montclair, N.J., said in his sermon.
A congregant was moved to give him an intact napkin holder. "I display it prominently," Tepperman says. "It's a nice reminder to not let the external trappings of the work I do be confused with the core purpose of my work."
Sometimes, gifts involve food—but not always such typical offerings as hamantaschen for Purim or honey cake for Rosh Hashanah. Sometimes, they come in the form of protein powder or eggs.
Rabbi Eytan Hammerman received the protein powder shortly after arriving for his new post at Temple Beth Shalom in Mahopac, N.Y., in the summer of 2010. His arrival had been widely publicized because he had biked there from his previous congregation—while his wife and kids took a more traditional route, traveling the 30 miles by car. A new congregant showed up a few weeks later with a large container of protein powder, thinking it was just what her new, presumably athletic, rabbi could use.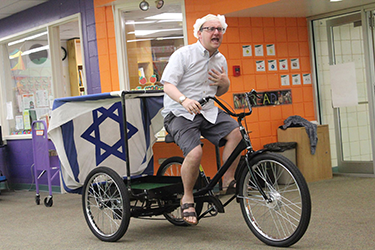 She was very proud that she found a protein powder with a kosher seal, Hammerman says, and figured "I must be a triathlete." Turns out he's not, and he passed the gift on to a weightlifter.
The eggs, meanwhile, were given to Rabbi Jacob Traub, the retired rabbi of Adath Israel in San Francisco, after he conducted a funeral service some 50 years ago, early in his career in Duluth, Minn. "It's customary that people make some kind of honorarium to the rabbi," he says, or perhaps a donation in his honor. Following this funeral, though, a farmer who attended took Traub aside at the mourners' residence and said he had a thank-you gift for the rabbi: He presented him with two dozen farm-fresh eggs.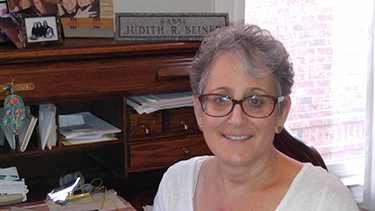 As for that possible tombstone? Rabbi Judith Beiner says that when she was leaving her first pulpit, B'nai Chaim in Morrison, Colo., in 1997, a congregant who was in the monument and stone business gave her a nearly 10-pound stone slab engraved with her name, for her desk.
"When I first got it, I didn't fully appreciate how much like a tombstone it is," says Beiner, now the community chaplain at Jewish Family & Children's Services in Atlanta. "Years later, with countless people coming into my office and making comments about it," she jokes, "I consider it one less thing for my kids to be concerned about when I die."
Debra Rubin is an editor and writer based on Maryland.