Baby Doll with Built-in Bluetooth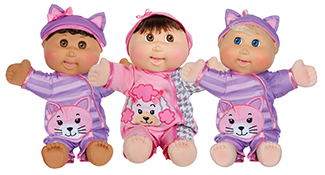 The must-have Hanukkah toy from the 1980s is back and more technologically sophisticated than ever, thanks to Israeli innovation.
When Cabbage Patch Kids were first mass-produced, their popularity was nothing short of phenomenal. Fast-forward 30-plus years and the brand doesn't hold the same cachet. Wicked Cool Toys, which owns the license to market Cabbage Patch Kid dolls, hopes to reinvigorate their appeal with a sensor-driven doll linked via Bluetooth to an app on your phone or tablet that simulates a baby monitor. This "smart" toy was developed using IoT technology—the Internet of things—which in everyday parlance means incorporating smart technology into a physical product.
Seebo, a leading IoT company headquartered in Israel, oversaw much of the development of the "Baby So Real" infants. The dolls come with LCD eyes that open, close and form 20 distinct expressions; a built-in response to peek-a-boo and other play; the ability to feed from a special bottle and burp; and cheeks that burn red when baby comes down with a fever.
"Israel is a hotbed of cutting-edge technology and the application of those innovations," said Jeremy Padawer, co-president and partner of Wicked Cool Toys. "We were excited to work with an Israeli company and experience their hands-on, team-oriented approach to development."