In Haifa, Multiculturalism in Neon Lights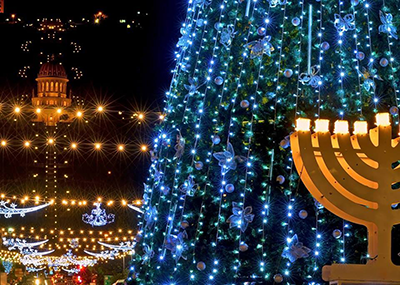 The darkened winter alleys of Haifa's lower city will once again be illuminated this month by the Holiday of Holidays festival, a celebration of the northern Israeli city's multicultural and religious diversity now in its 24th year.
Last year's events centered on Arab cuisine and music, with the Israeli Arab winner of the Master Chef television program making an appearance at the festival. This year, organizers at the Beit Hagefen Arab-Jewish Center (beit-hagefen.com) are supplementing the annual antiques market and choral singing in local churches with activities themed around what planners call "urban playability."
Entitled "Play Haifa," this year's Holiday of Holidays (December 8 to 18) will feature multimedia installations exploring the power of the city—internationally respected for its multiculturalism—to respond in a practical and creative way to challenges and opportunities in its urban landscape. Among the highlights is a downloadable virtual-reality tour of the rough-around-the-edges Wadi Nisnas area, featuring voiceover commentary on the future of the neighborhood provided by its predominantly Arab residents.