Lighting the Way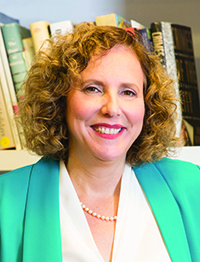 It's an old cliché that it's better to give than to receive, but we know that at least sometimes, the adage is indeed true. Which is why we have filled this Hanukkah issue with special gems as a gift for you, with the hope that you, in turn, will share the gift with your family and friends.
Among the treasures you will find are a wealth of book offerings, including an excerpt from this year's Ribalow prize winner for fiction; the latest crop of healthy eating guides; and a lively section on delightful new children's books. A dazzling display of unique gift ideas are featured in our Hanukkah Gift Guide and our oil-infused food column includes recipes for a favorite holiday treat—doughnuts.
In the spirit of the new focus of Hadassah Magazine (this is just the second issue!), we present more Jewish women making their mark in the world with a stellar profile of Supreme Court Justice Ruth Bader Ginsburg; a look at Emmy Award-winning Monica Piper's Off-Broadway take on being (not that) Jewish; and a Q&A with Baz Dreisinger, a prison reform advocate. We also provide an in-depth look at gender disparities in medical research and treatment, an issue in which Hadassah has taken the lead by launching the Coalition for Women's Health Equity.
We have heard from so many of you that you love the new Hadassah Magazine; thank you for your praise and your enthusiasm, along with your thoughtful comments and critiques. Now as you reflect on the Hanukkah themes of light, Jewish perseverance in the face of adversity and giving, we are asking for a gift in return: Help us continue to lead the way in providing quality Jewish journalism. You can help in two ways: Donate to the Hadassah Magazine Circle as part of our fundraising campaign and give a Hadassah membership or a magazine subscription as a Hanukkah gift to friends and family members. Happy Hanukkah!