Hadassah Hospital's Holiday Coexistence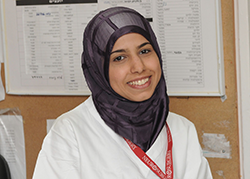 Hours after Jews light the first Hanukkah candle this year, Christians will be heading out to Midnight Mass.
"With December 24 marking the start of both Hanukkah and Christmas this year, things are a little more complicated than usual for us, but we're used to juggling schedules to accommodate everyone," says Tal Ilsar, head nurse in the Department of Internal Medicine at the Hadassah–Hebrew University Medical Center at Ein Kerem. "When you work as a team, you can't help but be culturally sensitive to your colleagues. So we raise a glass together for one another's festivals—Jewish, Christian and Muslim—and, as far as possible, we keep people off the duty rosters on their own holidays."
The real pressure this year, she says, will be at the end of Hanukkah, not the beginning. The eighth candle is lit on December 31—and New Year's Eve or, as Israelis call it, Sylvester, is a big event for most of Israel's ethnic groups.