Help Us Sustain the Magazine You Love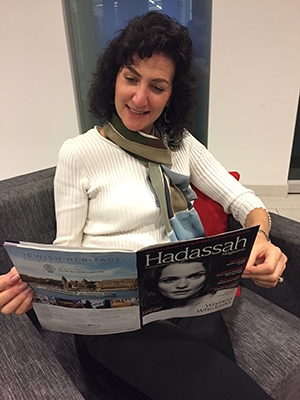 We hope you are enjoying the second issue of the "new" Hadassah Magazine, with its fresh, contemporary look filled with new features and writers and a renewed focus on women, health and Israel. These are the issues that define Hadassah, the Women's Zionist Organization of America, and help distinguish Hadassah Magazine from the rest of the Jewish media landscape. As chair of the magazine, I am proud to be working with such a talented and dedicated staff and I am proud of Hadassah's longstanding commitment to producing such a high-quality publication.
I know that you, as a member of Hadassah and as a loyal reader, value getting your magazine delivered to your home six times a year. We know from your responses to our reader survey earlier this year that for many, it's the magazine you most treasure and look forward to reading. Here at the magazine, we welcome members' contributions—from your ideas and suggestions to your generous donations to the Hadassah Magazine Circle. If you are already a contributor to the Circle, we thank you for your continued support and ask that you consider increasing your gift this year. If you haven't yet joined the Circle, we would love to see your name among our annual list of supporters. Remember that every donor of $250 or more receives a copy of the Hadassah Everyday Cookbook. Please join our effort to ensure a healthy future for the magazine you love.
BMOC: Big Magazine on Campus
When Hadassah child life members and Associates turn 18, they become eligible to receive their own copy of Hadassah Magazine—just at an age when most of them head off to college. But we can send Hadassah Magazine to college-age members in their dorms and apartments! Don't let the young people in your life miss out on our timely, fresh coverage of Israel, the American Jewish world and beyond. Please update addresses by emailing membership@hadassah.org.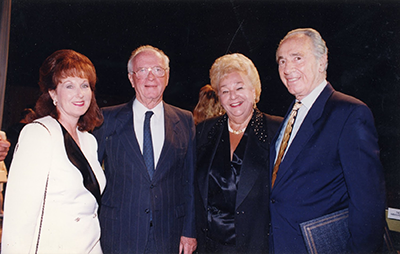 Remembering a Great Friend
When Shimon Peres passed away on September 28 at age 93, the world lost a visionary political thinker; Israel lost one of its most enduring voices for peace; and Hadassah lost a longtime friend who had supported this organization for decades. He showed up to our events and collaborated with multiple generations of our leadership. My fellow past presidents and I had the honor of meeting with the revered statesman several times over the course of our Hadassah service. Here, I share some of my colleagues' favorite memories of our late friend. May his memory be for a blessing.
Though I was new to the national board at the time, in 1979 Hadassah sent me to the World Zionist Congress in Jerusalem. At the meetings, Shimon Peres, always openly friendly and warm, made a point of introducing himself to me, the new girl. Among his Labor colleagues, he was the dapper, cosmopolitan gentleman. Besides Peres, the only other politician I remember from that visit wearing a suit and tie was Menachem Begin, who was then the Likud prime minister. —Carmela Kalmanson
In the spring of 2000, i was able to make a meeting with Peres a memorable event for my grandson, Noam Aron, then a senior in a yeshiva high school, who accompanied me to a Hadassah International Conference in Jerusalem. We attended a gala dinner at which Peres was presented the Citizen of the World Award. I brought Noam over to meet the politician, and upon introducing the two, Peres turned to one of his aides and asked for a bottle of wine from his private supply. He then poured four glasses of wine—for himself, Noam, Bonnie Lipton and me—and offered a toast. Today, Noam still has the glass from which he drank that wine! —Deborah B. Kaplan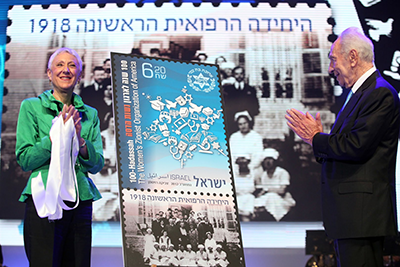 One special memory happened a number of years ago at a Hadassah International banquet in Jerusalem. Peres arrived very late, long after dinner had been served. "What's for dinner?" he asked, just as a waiter placed a filet of salmon in front of him. He appeared to study the fish. Wanting to make small talk, I said, "Mr. Peres, do you ever feel as if you could swim upstream?" His eyes met mine and, with a little smile, he said, "Never mind the salmon. Ayfo hayayin—where's the wine?" We both laughed. —Bonnie Lipton
As Hadassah International chair, like my predecessors, I was so privileged to have Peres as a cheerleader and supporter of our mission to build bridges from Israel to nations through medicine. In accepting his award in 2000, Peres remarked: "When I was asked what ministry I wanted, I said, 'the Ministry for Nonexistent Things.' You, too, at Hadassah are an organization for nonexistent things. You have changed them into reality. You are an army for health." —Nancy Falchuk
Hadassah leadership had scheduled a meeting with Peres in Israel for September 2011. National President Nancy Falchuk was set to announce that I would become the next national president of Hadassah. When we heard that his brother, Gershon Peres, had passed away, we doubted that the visit would take place as planned, but asked if we could come for a short visit to offer our condolences. Although he was not yet meeting with anyone, his response was that we could, of course, come. After all, he said, "Hadassah is part of my extended family." —Marcie Natan