The Bible Goes High Tech at this D.C. Museum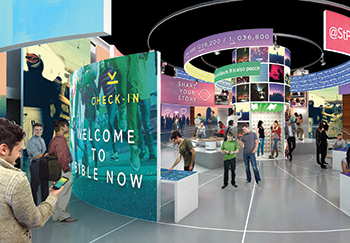 When the Museum of the Bible opens later this year near the National Mall in Washington, D.C., it will be one of the most technologically advanced museums anywhere, according to Jeff Schneider, the museum's vice president of information and interactive systems.
Past the digital entry arcade, where Holy Land imagery shimmers across 555 LED panels, each guest will receive a personal device "that tailors your tour to your areas of interest, respecting the different ways that various faith groups utilize the Bible," said Schneider. Visitors can program the device to identify highlights—the Hebrew Bible, for example, or Jewish artifacts—as they navigate the 430,000-square-foot museum, interacting with objects in 3D virtual reality. The smartphone-sized guide even estimates the number of minutes required to see an exhibit.
It's just one example of the way technology is embedded throughout the museum, said Schneider, whose team worked with the Israel-based firm Compedia on the $42 million project. Another example is the Performing Arts Hall, which immerses spectators in a 270-degree, wraparound visual experience.
"We'll have shows based on biblical sites in Israel where the space comes alive around you," Schneider said of inarguably one of the most modern ways to see the world's oldest sights.