IDF Medics the Best in the World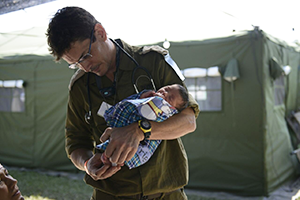 The World Health Organization recently awarded its highest rank to the Israel Defense Forces' emergency response team, which provides medical aid in disaster areas around the world. Of the 17 teams worldwide recognized by the WHO, only Israel's has achieved a Type 3 ranking, awarded because it provides complex surgical care, including intensive care, and can treat 15 major or 30 minor surgical cases a day.
"When we were given the recognition, the director-general of the WHO [Margaret Chan] said, 'The world should learn from Israel how to operate in disaster areas with the right ethics'," Col. (res.) Dr. Ofer Merin, commander of the IDF field hospital, shared on idfblog.com. "For me, representing the medical corps, it was a great privilege to hear them saying that other countries should learn from Israel."
"Each disaster is unique and presents its own challenges," an IDF spokesperson said. In April 2015, for example, Israel sent 122 medical workers and 45 physicians to set up and operate a field hospital in Nepal following a magnitude 7.8 earthquake.
Israel's team was first sent abroad in 1985, when a magnitude 8.0 earthquake struck Mexico City. Since then, 21 delegations have traveled to 15 countries.