Exploring Judaism and the Modern World in Film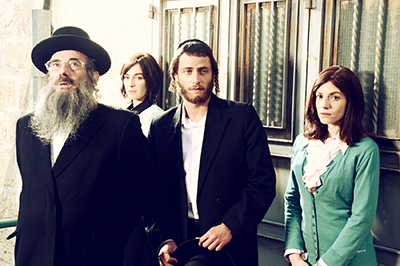 In the last decade, two television dramas have changed the way secular Israelis view religious Jews as well as how those Jews see themselves. The first was Srugim, which ran from 2008 to 2012. The series, named for the knitted yarmulkes worn by some Modern Orthodox men, followed a group of young Modern Orthodox professionals in Jerusalem. The second, Shtisel, is about a large haredi family named Shtisel in Jerusalem's crowded, impoverished Geula neighborhood. Shtisel will soon return to the small screen for its third season.
Neither of these acclaimed series likely would have been created were it not for the Ma'aleh School of Television, Film & The Arts located in Jerusalem's artsy Musrara neighborhood. Ma'aleh is the only film school in the world devoted to exploring the intersection of Judaism and the modern world. Both the co-creators of Srugim, Eliezer "Laizy" Shapira and Hava Divon, and one of the co-creators of Shtisel, Ori Elon, studied there.
"At Ma'aleh, I learned that there is no contradiction between humanity and art and between Torah and art," said Elon, who is Orthodox. "Everything depends on you as a creator and a religious person." Shtisel drew praise from critics for giving Israeli audiences a rare inside look into the world of haredi Jews. Amazon has picked up the series and is adapting it for American viewers under the title Emmis, the Yiddish word for truth.
Ma'aleh was founded in 1989 to serve Orthodox Jews interested in television and film production. While Israel today has several film schools, at that time the only option was the Steve Tisch School of Film and Television at Tel Aviv University, a daunting setting for young observant Jews hoping to break into a field dominated by secular Israelis.
Currently, about 70 percent of Ma'aleh students identify as observant, though the number of secular students has been growing. Although Ma'aleh has a Jewish agenda, academic director Neta Ariel contends that it is not forced on the students. "Ninety percent of the films our students make are personal stories," she said. "The Jewish content comes naturally." Recent student films have featured a variety of topics, including homosexuality, sexual abuse and intermarriage.
"That Ma'aleh's students now feel confident to make films like these is a positive sign of how far the school has come," said Hedva Goldschmidt, who established the school's distribution department before leaving to start her own film distribution company, Go2Films.
Ma'aleh maintains its uniqueness through the type of language its students learn and employ. "We don't censor," Ariel explained, "but at the same time we ask our students to make films that everyone—including haredim—will come and see." None of the 120 student films produced to date includes coarse language, graphic violence or sex (student films are available for rent or purchase at maale.co.il/en/movies/catalog). And screenings at the school have indeed drawn audiences from the local haredi community.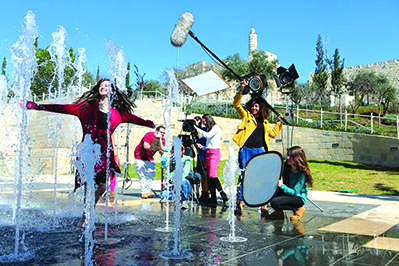 Ma'aleh students boast a reputation for not always taking the prescribed path, which is what attracted 2010 graduate Miya Hatav to the school. "People at Ma'aleh are bold and brave. They look into things in a deep way," said Hatav, who lives in Tel Aviv and left religious observance during her years at the school.
Hatav's first feature film, Between Worlds, had its American premiere at New York's Other Israel Film Festival in December 2016. The drama describes the budding relationship between a grieving Orthodox wife and mother, visiting her son, hospitalized after being gravely injured in a terrorist attack, and a young Arab woman who claims she is at the Israeli hospital to see her dying father.
Other graduates point to the acceptance and inclusion in the school as major sources of strength and professional growth. "When I visited different film schools, I felt alienated," said graduate Eliran Malka of Nahariya, who grew up in a religious Mizrahi family. "At Ma'aleh, I felt at home."
Malka graduated in 2010 and has worked steadily since in television and film. His short biopic 71 Square Meters, about a young Mizrahi man who returns to his childhood home before it is demolished, has screened at Jewish film festivals around the world.
Alongside filmmaking and screenwriting—its two diploma tracks—Ma'aleh has pioneered a vocational filmmaking program for haredi women that teaches the technical basics necessary to become a videographer. The school also offers a video therapy program that trains teams of therapists and filmmakers to work with vulnerable populations.
It may be one of Israel's smaller film schools, but Ma'aleh graduates have had an outsized impact, said Goldschmidt. "Ma'aleh has played a major part in the revolution of how Jewish religious characters are portrayed."
Renee Ghert-Zand, a freelance journalist covering Israel and the Jewish world, lives in Jerusalem.