The New (Old) Cannabis Consumer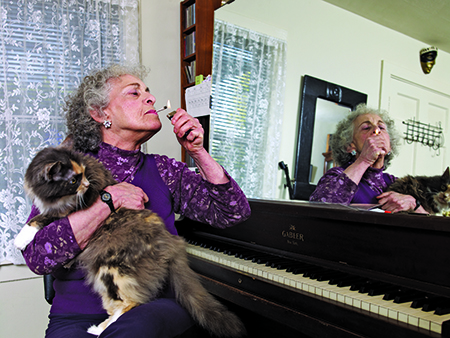 Ann Channin, of Oakland, Calif., has been smoking joints since medical marijuana became legal in her state in 1996. The 79-year-old jazz vocalist and voice teacher, who now resides in a senior retirement home, says it helps reduce the pressure on her eyes from glaucoma and eases the pain from a "messed up spine," the result of scoliosis, stenosis and herniated disks. "If I can stop and take a few puffs several times a day, then my pain is relieved to some extent. It also makes me feel more energetic.
"I'm not saying it's good for everybody or everything," she adds, "but it really is a wonderful thing."
If your image of a marijuana user is a college kid looking to get stoned or an aging hippie blissed out in the desert, think again. Medical marijuana, now legal in 28 states and the District of Columbia, has radically changed the picture of a cannabis user. The Centers for Disease Control and Prevention recently released a National Survey on Drug Use and Health that highlighted the increasing popularity of medical marijuana in the graying population. And according to a CBS News report in October 2015, the number of people 55 and older using marijuana increased from 2.8 million in 2013 to 4.3 million in 2014. (At the same time, there is a conflict between federal and state law, with medical marijuana considered a controlled substance under federal law, though individual patients rarely face prosecution.)
When Jan Wasserman, an active 72-year-old former television producer who lives in both Mendocino, Calif., and at the Rossmoor retirement community in Walnut Creek, Calif., discovered she had lupus, she was devastated. Wasserman already suffered from Sjögren's syndrome, an immune disorder. Several of her friends were successfully using medical marijuana—for insomnia and rheumatoid arthritis, for a nasty case of eczema and for an immune disorder—and at their urging, she asked her doctor if cannabis might control her symptoms. "Give it a try," he told her, and the results exceeded her expectations.
"Medical marijuana is an amazing holistic approach to wellness," Wasserman waxes enthusiastically. "My aches and pains, my periods of total exhaustion are greatly reduced. My husband has even started rubbing a cannabis salve on his sore aging knees, and they hurt less than before."
Despite their increasing embrace of medical marijuana, seniors, by and large, approach its use with a mix of desperation and trepidation. "Older clients are afraid of getting high," says Mary Carniglia, an intake receptionist at Healthy Choices Unlimited, a Denver clinic that provides medical marijuana services. "They have euphoria phobia. 'How will I feel? How will I behave?' they ask. And there is another group who is afraid of the stigma."
In general, seniors are opposed to smoking. They prefer their cannabis in tinctures, edibles, vaporizers, creams, oils or patches, which, except for edibles, tend to be nonpsychoactive. Patients are seeking benefit from the compound CBD, the painkiller cannabidiol. The refrain activists quote is, "Seniors don't want to get high; they want to get well."
Jews have been in the forefront of the effort to legalize medical marijuana, perhaps because of what Rabbi Dayle Friedman attributes to the "strong mandate about healing in Judaism." Says Friedman, who developed the Philadelphia-based growingolder.net, which offers spiritual guidance and resources for the journey beyond middle age, "We Jews have an obligation to do all we can to enhance our physical well-being."
One of the loudest Jewish pro-legalization voices belongs to Jane Marcus, 68, whose passion comes from witnessing the benefits of marijuana firsthand. "A beloved friend from my synagogue contracted HIV from a blood transfusion. She was down to 85 pounds and had no desire for food," recalls Marcus, a former New Yorker who now lives in Mendocino. "Marijuana brought back her appetite and extended her life for three years. That's when I started asking myself, why is this illegal?" When Marcus joined the national board of Women of Reform Judaism, she successfully lobbied for a resolution in support of medical marijuana. In 2003, with her support, a similar resolution was adopted by the entire Union for Reform Judaism.
Marcus could be an ideal speaker for the Medical Marijuana Education and Support Club at Rossmoor. In 2011, the club started with 20 members. Today, its mailing list numbers over 500, and 60 or more people attend its regular meetings. "Five years ago, nobody was talking publicly about medical marijuana," says club president Renee Lee, a 64-year-old psychotherapist. "Now all I hear around the pool is, 'Oh my God, I tried it and it works.'"
While the times they are a-changing, Lee, who offers psychotherapy at several assisted-living facilities near her home at Rossmoor, found that resistance to medical marijuana remains strong. "A nurse at one of the homes told me that if a patient arrives with any kind of marijuana," she says, "they burn it and give them opiates instead."
Lee's personal experience with medical marijuana began several years ago, after she had been prescribed opioids following two major operations. "I was totally out of it, sleeping all the time," she recalls. "With my doctor's permission, I tried medical marijuana and pretty quickly I was able to get off all those awful, addictive drugs." Doctors are not allowed to prescribe cannabis but they can give patients recommendations that comply with state law, allowing them to either buy from a dispensary or supplier or grow it themselves.
Experts agree that medical marijuana use among seniors is, in part, a response to the desperate search to find a benign substitute for addictive prescription painkillers such as OxyContin and Percocet or generic equivalents such as fentanyl. The CDC reports that in 2014, deaths from opioid overdoses rose to 19,000. In June 2016, the Associated Press reported that in the previous year, "nearly 12 million Medicare beneficiaries received at least one prescription for an opioid painkiller."
It turns out that many of the ailments associated with aging—arthritis, Parkinson's disease, insomnia, chronic pain, depression—respond well to cannabis. And though some people may experience side effects from its use—drowsiness, dry mouth, hunger, insomnia, red eyes, respiratory issues, anxiety and short-term memory loss—they are much milder and more manageable than those that come with traditional medicines, according to the Minnesota Medical Marijuana Doctors website, which also notes that "there has never been a death attributed to a marijuana overdose."
Among doctors, reaction to medical marijuana ranges from enthusiasm to concern. Dr. Andrew Medvedovsky, a neurologist and pain management specialist at RA Pain Services as well as director of New Jersey Alternative Medicine, both in Turnersville, N.J., has seen positive results. "Medical marijuana has completely changed my practice by helping me reduce the use of opiates," he says, "and I don't have to up the dose to improve the effect."
Dr. Kevin Hill, assistant professor of psychiatry at Harvard Medical School and an addiction psychiatrist at McLean Hospital in Belmont, Mass., is generally bullish on cannabinoids. But he worries that the implementation of marijuana legalization laws is uneven and often leads to subpar patient care. He says, "You shouldn't be able to walk into a clinic and leave 15 minutes later with a certification for medical marijuana and no plan for a follow-up."
For his part, Nicholas Vita, CEO of Columbia Care, a company that owns dispensaries in five states, acknowledges that education about dosage and drug interactions is an industry problem, which is why his company plans to have licensed pharmacists at all its sites by the end of 2017.
Dr. Jordan Tishler, a Harvard-trained physician and holistic care expert who owns two medical marijuana clinics outside Boston, says physicians are cautious in embracing medical marijuana because they don't know enough about it. His practice, Inhale MD, is heavily weighted toward seniors. "Across the board," he says, "they find cannabis extremely helpful."
Carol Saline is a journalist, speaker and author of the photo-essay books Sisters and Mothers & Daughters.