Celebrating Zionism and Zionists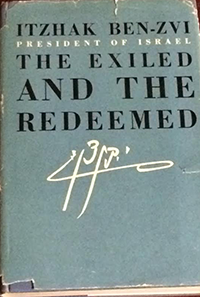 Original Edition a Rare Find
In the annals of  modern Israeli history, not much ink has been spilled on the second president of the country, Yitzhak Ben-Zvi, particularly in comparison to towering figures like David Ben-Gurion and Menachem Begin. But both Ben-Zvi and his wife, Rachel Yanait Ben-Zvi, enjoyed a warm relationship with Hadassah and a friendship with National President Judith Epstein, who served in the 1930s and 1940s. That friendship recently came to light in the most serendipitous way.
Josh Hamerman, a public relations executive and former journalist in New Jersey, last year purchased a vintage copy of Ben-Zvi's long out-of-print The Exiled and the Redeemed on eBay.com. When the book arrived and he flipped through its first few pages, he was thrilled to find a handwritten inscription to the volume's original owner—Judith Epstein. In gracious Hebrew, Yanait Ben-Zvi had written: "To our friend Yehudit Epstein as a good remembrance, our president's book. With regards, Rachel Yanait Ben-Zvi, Passover 25/IV 59" (April 25, 1959).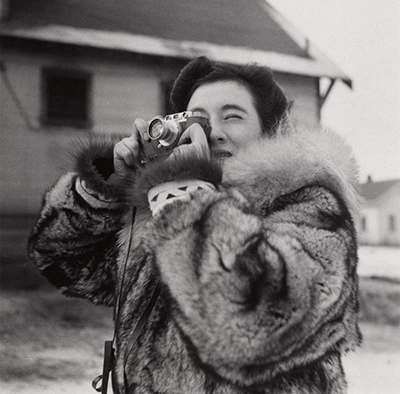 Truly Ahead of Her Time
The story of Ruth Gruber, a trailblazing photojournalist who passed away on November 17, 2016, at 105, reflects a pioneering life lived to the fullest. Before becoming a Hadassah Magazine correspondent in the 1960s and a longtime friend of this organization, she was the youngest Ph.D. in the world at age 20 and covered stories no one else did.
The first journalist allowed into the Soviet Arctic (1935), she also reported on the voyage of the Exodus, the events of which she published in Exodus 1947: The Ship That Launched a Nation. She made history herself when she secretly escorted a thousand refugees from war-torn Europe to Oswego, N.Y., in 1944 and cultivated relationships with world leaders like Eleanor Roosevelt and David Ben-Gurion.
Her life, in turn, became material for the autobiography Ahead of Time: My Early Years as a Foreign Correspondent as well as an award-winning documentary film of the same name. CBS made a miniseries based on her book Haven: The Dramatic Story of 1,000 World War II Refugees and How They Came to America.
Raquela: A Woman of Israel is Gruber's 1978 biography about Hadassah Hospital nurse and midwife Raquela Prywes, a nonfiction work whose gripping storytelling surrounding the founding of the State of Israel has been beloved by generations of readers.
Celebrating the Z in Hadassah, WZOA
What does Zionism mean to you today? How do you express your love and support of Israel, beyond your membership in Hadassah? We hope to answer those questions and bring stories of modern-day Zionism alive for our readers in an ongoing column, reminding us all that Zionism is more than a one-time liberation movement. It is a living, breathing principle and organizing philosophy of the Jewish people. As a member of the World Zionist Organization, Hadassah, the Women's Zionist Organization of America, supports WZO's platform, which outlines the foundations of Zionism as:
The unity of the Jewish people, its bond to its historic homeland Eretz Yisrael  and the centrality of the State of Israel and Jerusalem, its capital, in the life of the nation;
Aliyah to Israel from all countries and the effective integration of all immigrants into Israeli society;
Strengthening Israel as a Jewish, Zionist and democratic state and shaping it as an exemplary society with a unique moral and spiritual character, marked by mutual respect for the multifaceted Jewish people, rooted in the vision of the prophets, striving for peace and contributing to the betterment of the world;
Ensuring the future and the distinctiveness of the Jewish people by furthering Jewish, Hebrew and Zionist education, fostering spiritual and cultural values and teaching Hebrew as the national language;
Nurturing mutual Jewish responsibility, defending the rights of Jews as individuals and as a nation, representing the national Zionist interests of the Jewish people and struggling against all manifestations of anti-Semitism; and
Settling the country as an expression of practical Zionism.