We Mourn the Loss of Past National President Deborah B. Kaplan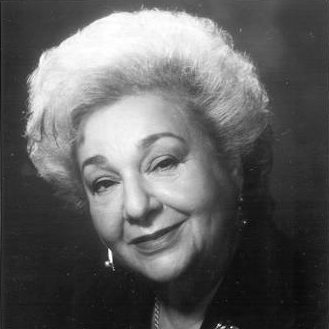 Deborah B. Kaplan, who served as national president of Hadassah, the Women's Zionist Organization of America, from 1991 to 1995, passed away February 27, 2017. She was 91.
"We are deeply saddened by the loss of such a great leader," said Ellen Hershkin, Hadassah's current national president. "At the same time, we are thankful for the rich and committed life Debbie led. She was a passionate Zionist and became the matriarch of a family committed passionately to Israel and the Jewish people."
In 1995, at Hadassah's national convention in Jerusalem, Mrs. Kaplan officially opened the Charlotte R. Bloomberg Mother & Child Center, an innovative pediatric treatment and research facility on Hadassah Hospital's Ein Kerem campus. The center was named in honor of a longtime Hadassah activist and leader who was also the mother of New York Mayor Michael Bloomberg. Prior to the opening, Mrs. Kaplan had been instrumental in the building of the center.
During Mrs. Kaplan's four years as Hadassah's 20th national president, the organization increased its concentration on women's health and education, spoke out in favor of more AIDS research and advocated for U.S. loan guarantees for Israel. In 1992, she led more than 1,500 Hadassah members from across the United States in the "March for Women's Lives" in Washington, organized by NOW.
As president, Mrs. Kaplan represented Hadassah numerous times at the White House, including at the signing of the first Israeli-Palestinian agreement in 1993 and at the signing of the peace treaty between Prime Minister Yitzhak Rabin of Israel and King Hussein of Jordan in 1995.
Mrs. Kaplan was also active in the wider Zionist movement. She first served as a delegate to the World Zionist Congress in 1978; in 1987, she was elected to the Zionist General Council of the World Zionist Organization. Five years later she was elected a member of the executive of the WZO and also assumed a leadership position on the Jewish Agency for Israel Board of Governors.
She served on the boards of many major organizations, including the American Friends for the Hebrew University and the Jewish National Fund.
After her term as president, Mrs. Kaplan remained active in Hadassah's Leadership, serving as chair of Hadassah's 90th anniversary celebration in 2002, of the Henrietta Szold Award Committee, of the Planned Giving and Estates Department and as Hadassah's Jewish National Fund chair. Over the years, she also demonstrated her commitment to future leadership by mentoring young members of Hadassah's National Board.
In 2006, after rocket fire from Hezbollah in Lebanon sparked widespread forest fires in northern Israel, Mrs. Kaplan led Operation Northern Renewal to help the Jewish National Fund rebuild in the areas affected. Part of the operation was the gift of a fire truck to the JNF firefighting center at Hatzor Haglilit.
In recognition of her leadership, the conference and play area at Hadassah Hospital's Mother & Child Center was named in Mrs. Kaplan's honor, as was the sports center at the Meir Shfeyah Youth Village.
Mrs. Kaplan was born and raised in Jersey City, New Jersey, and spent her adult life in neighboring Bayonne. Her husband, Aaron Kaplan, died in 2007. She was pre-deceased by two sons, David and Philip. She is survived by her daughter and son-in-law, Miriam and Mark Aron, nine grandchildren and 14 great-grandchildren.