A Revamped 'American in Paris' On Tour
An American in Paris calls itself "a new musical," and it is. The show still revolves around the romantic entanglements among a group of friends who vie for one woman, and choreographer-director Christopher Wheeldon looks to the past by paying homage to the 1951 Oscar-winning film. But the 2015 Broadway show upon which this North American tour is based features stronger plotting and added historical context (for tour dates and locations see anamericaninparisbroadway.com).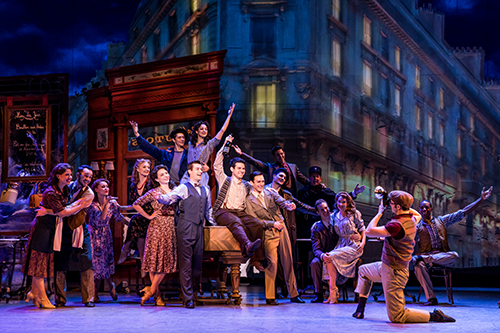 Playwright Craig Lucas (Prelude to a Kiss) smartly begins his book in 1945, just after World War II, rather than several years later, as the film did. As the musical begins, resplendent French flags replace Nazi banners adorned with swastikas. Paris comes back to life as its citizens overpower a Vichy collaborator. The hero, American soldier-turned-artist Jerry Mulligan, stills falls for French dancer Lise Dassin, but Jerry's war memory is stronger than in his 1951 incarnation. His friend and fellow soldier, composer-pianist Adam Hochberg—a revamped Adam Cook from the film—also falls for Lise. Adam serves as an unabashedly Jewish narrator and wise-cracking observer. Lise turns out to be Jewish, too—another change from the film. She was saved from the Nazis by the parents of her tentative boyfriend, Henri Baurel, who is friends with both Americans.
Wheeldon's multifaceted choreography shines, including jazzy turns, exuberant ballet and an elegant showstopper.
The tour ensemble sparkles. Garen Scribner as Jerry is a robust singer. Gifted Sara Esty delivers a big-voiced, heartfelt "The Man I Love" and demonstrates fine dance technique as Lise. And Etai Benson captures Adam's appealing sense of humor, shining decency and inner strength.