Israeli-made Caesarstone Gets Super Foodie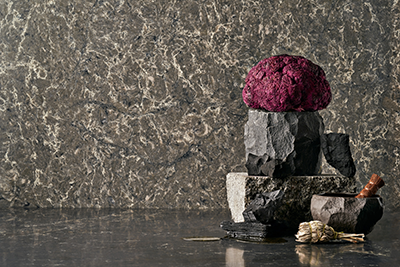 Caesarstone, the Israel-based manufacturer of quartz countertops found in kitchens throughout the world, has humble roots on Kibbutz Sdot Yam near Haifa.
But much like Israel as a whole, times have changed for the company. Haute cuisine has become a national pastime, and Caesarstone embraces this trend with its first conceptual cookbook, A Material Menu: Designs for the Culinary Aesthetic. The gorgeously photographed book contains eight recipes dedicated to the four elements. For instance, Dark Trophy, made with purple cauliflower and black lava salt, evokes fire, while Icefish Fritters, which call for sardines and the edible wildflower known as rock samphire, relates to ice. In the photos, recipes are paired with Caesarstone surfaces in assemblages created by Milanese food design firm Arabeschi di Latte.
"We believe Caesarstone has the ability to inspire creativity," said Eli Feiglin, vice president of marketing. "With this book, we explore the relationship between the food prepared and the surface it is prepared on."