'Needlework Is Tactile Prayer'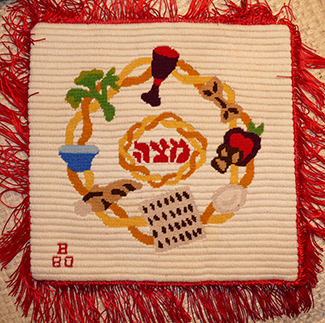 Beautifying the mitzvot is a value woven into the fabric of Jewish observance. For members of the 40-year-old Pomegranate Guild of Judaic Needlework, it's a favorite commandment. Taking its name from verses in Exodus 39—"And they made upon the hem of the robe pomegranates of blue and purple and scarlet… And they made bells of pure gold and put the bells between the pomegranates…"—the group counts over 500 members belonging to chapters across the United States and Canada.
In celebration of its 40th anniversary, the guild has digitized the archives of its print newsletter, Paper Pomegranate. Now, members can search online (pomegranateguild.org) by technique or project type—talit, matzah cover, quilted huppah—and find patterns and instructions among the more than 1,000 articles.
Members are accomplished craftspeople in a range of techniques, including weaving, quilting, needlepoint, appliqué, cross-stitch, knitting, crocheting and the rare needle arts of huck, blackwork, tatting and chicken scratch.
Quilter and sometime crocheter Cathy Perlmutter, president of the guild, sees a direct link between her needlework and her Judaism. "There is an internal dialogue that goes on when you do anything with your hands," explained the South Pasadena, Calif., resident. "Over time, I've discovered that the internal dialogue of creation started to take on a quality akin to prayer. Needlework is tactile prayer."