The Story of Israel, a Radio Show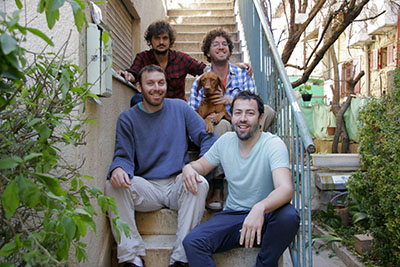 When Jerusalemite Mishy Harman went on a road trip across the United States about four years ago, he stumbled upon This American Life, Ira Glass's popular radio broadcast.
"Why not create a similar human-interest, long-form storytelling program at home?" he thought. Harman reached out to childhood friends Ro'ee Gilron, Shai Satran and Yochai Maital to help him create a podcast they dubbed Sipur Yisraeli (Israel Story).
The first episode, which aired in July 2013, explored the theme "Starting Anew" and included the stories of a musician with a brain injury and a Carmel forest town after a devastating fire. The podcast was quickly picked up by the national Army Radio station and, by the end of its first season, attracted 100,000 listeners. In 2014, the group created the biweekly Israel Story to bring the made-in-Israel anecdotes—nothing overtly political—to English speakers.
But it wasn't as simple as translating the Hebrew stories into English. They had to reinterview everyone, recalls Harman, 33, and "the kinds of stories that interested the different audiences were different." For example, one English episode describes the rituals of Holocaust Remembrance Day—something familiar to Israelis but not to others. Episodes are available on iTunes or streaming from the Israel Story website; a new season launched in April.
"We want to tell the stories of the people who live here—from settlers to Eritrean immigrants to the ultra-Orthodox," says Harman, "to get our listeners to understand that Israel is a much more pluralistic place than comes across on the news. We are not the sum of the actions of our political leadership, but of the eight million individuals who have fascinating lives."