The Seventh Day, in Hebrew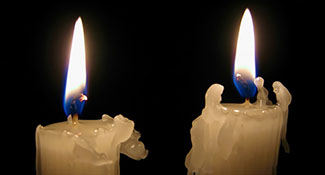 There are those who hear the akkadian word for festival, shappatu, as a possible ancestor of the Hebrew word Shabbat. But, insists etymologist Ernest Klein, the concept of a weekly day of rest is the gift of the Hebrew language to the world. The root ‭ ‬ש–ב–ת (shin, vet, tav), to cease from labor, has many uses today, in both religious and secular contexts. One might even say that in the 50 years since the Six-Day War, the Zionist world has not taken a ‭ ‬שַׁבָּת (shabbat), "day off," from debating that war's consequences.
Shabbat is linguistically wide-ranging, a feminine singular noun that is sometimes masculine and, in the Amidah of the Shabbat afternoon service, plural as well. Lexically varied, Shabbat is not only the seventh day of the week. It is also a week, one of‭ ‬שֶׁבַע‭ ‬שַׁבָּתת‭ ‬(sheva shabbatot), seven Sabbaths, between Passover and Shavuot. The expression שַׁבָּת‭ ‬שַׁבָּתן (shabbat shabbaton), refers not only to Yom Kippur but also to the sabbatical year, when the land lies fallow (and academics on shabbaton do research). Shabbat is also eternity, i.e., the world to come,‭ ‬ים‭ ‬שֶׁכֻּלּ‭ ‬שַׁבָּת‭ ‬(yom she-kulo shabbat), the "day that is all Shabbat." In the expression מִמָּחֳרַת‭ ‬הַשַׁבָּת (mi-mohorat ha-shabbat), "from the day after Shabbat," when we begin to count the omer, the word Shabbat refers to the first day of Passover. The phrase וַיִשְׁבֺּת‭ ‬בַּים‭ ‬הַשְׁבִיעִי‭ ‬ (va-yishbot ba-yom ha-shevi'i), "He/It ceased on the seventh day," is applied to both the God of Creation and the manna falling from heaven. When workers today wish to protest, they go on שְׁבִיתָה‭ ‬ (shevitah), strike.
Rabbi Akiva reportedly offered the following advice to his son: Rather than rely on others, if you can't afford a meal that is שַׁבַּתִּי (shabbati), festive, עַשֵׂה‭ ‬שַׁבָּתְךָ‭ ‬חל (aseh shabbatekha hol), "Make your Sabbath a weekday." The Jerusalem Talmud tells a quaint story about the legendary river סַמְבַּטְין‭ ‬ (sambatyon). The river takes a day off from its hazardous weekday rock-heaving turbulence on Shabbat, the day, ironically, when Jews may not cross rivers. One of the most beautiful modern Shabbat hymns, Hayim Nahman Bialik's‭ ‬שַׁבָּת‭ ‬הַמַּלְכָּה‭ ‬(shabbat ha-malkah), "The Sabbath Queen," rewrites a story told in the Talmud of a pair of ministering angels who visit on ‭ ‬לֵיל‭ ‬שַׁבָּת (leil shabbat), Friday evening.
Shabbat is when עִבְרִית‭ ‬שֶׁל‭ ‬שַׁבָּת ‬(ivrit shel shabbat), dignified Hebrew, and ‭ ‬ענֶג‭ ‬שַׁבָּת (oneg shabbat), decorous pleasure, rule the day. No matter our political differences after 50 years, the time is always right for the greeting שַׁבָּת‭ ‬שָׁלם ‬ (shabbat shalom).