A Tattoo, the Indelible Holy City Memento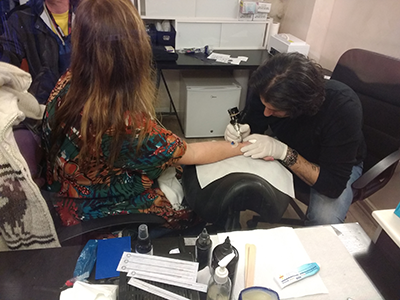 Jewish pilgrims to Jerusalem famously take ink to paper and leave a note in the Western Wall. For many Christians, their message is left on the flesh.
Along with the Via Dolorosa and Church of the Holy Sepulchre, many Christian visitors to Jerusalem make their way to Razzouk Tattoo on St. George Street, just inside the Old City's Jaffa Gate, to get inked. There, Wassim Razzouk, 43, is maintaining centuries of family tradition.
"Pilgrims have always gotten tattoos whenever they came to the Holy Land, and there's proof of this from medieval times," said Razzouk. "This was a certificate, proof of their pilgrimage to the Holy Land."
The Razzouks hold the distinction of being the "only family continuing to do this tradition, and the only family continuously doing it from father to son without missing a generation," noted Razzouk. Six hundred years ago, his ancestor George came to Jerusalem from Egypt, where Copts traditionally tattooed a cross onto the inside of the right wrist.
Though Jewish law is typically interpreted as forbidding tattoos, Razzouk does have experience tattooing Jews—some of it for a noble purpose. As part of a project called Healing Ink, he has helped Jewish victims of terror reclaim their bodies by covering their scars with unique, personal designs. —Ilan Ben Zion