Camp Zeke Offers a Summer of CrossFit and Farmers' Markets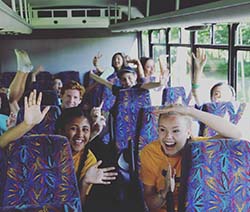 Camp Zeke, a Jewish summer camp in Lakewood, Pa., focusing on healthy eating and promoting an active lifestyle, has a new offering to engage teens. The three-week Zeke Teen Travel program will take 16 teenagers to New York, Boston and Philadelphia to experience local food, fitness and culture. The 10th to 12th graders will shop at farmers' markets, meet with master chefs at top restaurants, cook meals and explore the cities' niche neighborhoods, including a walking and eating tour through New York's Lower East Side.
To combat all the fressing, campers will work out in heart-pumping sessions at CrossFit gyms, Zumba dance-offs and boot-camp classes on the Brooklyn Bridge. The tour will also include volunteering with nonprofits that fight hunger and homelessness.
Shabbats will be spent at Camp Zeke's 500-acre Poconos location. The teen program is a grantee of the New York Teen Initiative, jointly funded by UJA-Federation of New York and the Jim Joseph Foundation, with The Jewish Education Project serving as lead operator.
"We decided to start a camp that reflects the way we live our own lives," said Isaac Mamaysky, who founded Camp Zeke with his wife, Lisa. "In our personal lives, we cook healthy, organic foods together, go hiking and cycling and relish our involvement in the Jewish community. We wanted to create an overnight camp that reflected those three things—food, fitness and joyful Judaism."