Touring Jerusalem from the Inside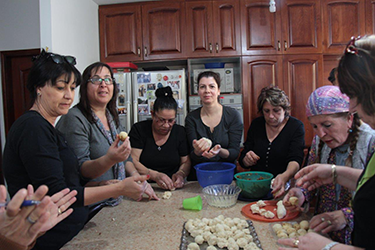 Dalia Harfoof was working as an aide in a Jerusalem home for people with disabilities when she learned of a new income opportunity: inviting tourists into her own home. Harfoof, who is of Kurdish Jewish extraction, lives in Ein Kerem, a picturesque neighborhood that was an Arab village before 1948. Now, she regales guests with tales and songs she learned as a child and teaches them how to cook kubbeh, a popular Middle Eastern dumpling.
Harfoof is one of 60 women in areas throughout the city—from ultra-Orthodox Meah She'arim to the Palestinian village Umm Tuba—who are part of the Women and Tales Program, established four years ago by the Jerusalem municipality and the Ministry of Tourism.
"I wanted to find a source of income for women that was related to tourism," said program founder Orly Ben-Aharon, who serves as an adviser on the status of women to Jerusalem Mayor Nir Barkat.
The women include artists, artisans and others, some of whom have never worked outside the home. After taking a seven-month course in entrepreneurship, the women offer tourists such home-based workshops as flamenco dancing and henna skin painting. Many provide tasty snacks, even whole meals, and all have interesting stories.