Q&A: Yohanna Arbib-Perugia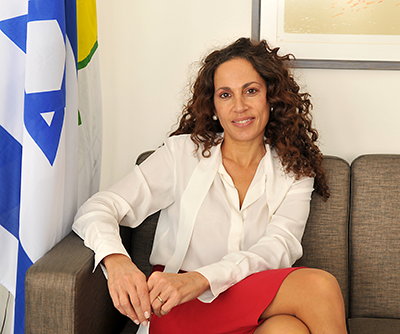 Yohanna Arbib-Perugia wasn't even born when Jerusalem's legendary mayor Teddy Kollek established the Jerusalem Foundation in 1966, or when Jerusalem was reunited a year later. But the 47-year-old native of Italy has been the president of the foundation since 2015, and is now focused on the next half-century of enhancing Israel's largest city and improving the quality of life for all its nearly 900,000 inhabitants. Since its inception, the foundation has raised $1.5 billion from global donors and completed 4,000 projects in the Israeli capital.
A successful businesswoman and former chairwoman of the world board of trustees for Keren Hayesod-United Israel Appeal, Arbib-Perugia splits her time between Rome and Jerusalem. This interview was edited for brevity and clarity.
How has the role of the Jerusalem Foundation changed over the last 50 years?
In the past, the city needed physical projects: parks, preservation of heritage sites, schools and museums. The city still needs those, but our concentration today is on adding programmatic content and quality, like the annual international jazz festival. The foundation's major role is still to cater to a unified Jerusalem and all its residents. We want to create a better life and future for all, and to make sure that young families stay in Jerusalem. We want to have a vibrant, modern city while preserving the essence and the importance of the history of Jerusalem.
How does the foundation decide which projects to prioritize and pursue?
The Jerusalem Foundation was founded to be a partner to the municipality. The priorities of the city continue to be defined by the mayor, and the foundation works within the framework of these priorities. In some cases, donors have specific requests, and we cater to those requests as well. Some past high-profile projects include the Jerusalem Cinematheque and the Tisch Family Zoological Gardens. Current Mayor Nir Barkat's priority is to ensure the city is a livable city for professionals and young families. Upcoming plans include creating a Jerusalem Arts Campus, which will house a film school, acting studio, music center and more.
What do you consider the foundation's greatest success in its first half-century?
The major success of the Jerusalem Foundation is that all of our projects are done on the basis of a unified Jerusalem. In both East Jerusalem and West Jerusalem, we support community centers, public libraries and business development centers. We also operate some programs in East Jerusalem only, such as Medabrot Ivrit, which teaches Arab women spoken Hebrew to help them improve their standard of living and have better access to social services.
What is Jerusalem's greatest challenge today?
I think the biggest challenge today is education at all levels for the next generations. I would like to see the foundation concentrate on education because this is the means by which you create well-being in a unified city. One current project brings university students to elementary schools to help tutor younger children.
Would you direct more resources toward specific populations?
Resources should go everywhere, but we need to concentrate our efforts on the Arab and haredi populations [which each make up about a third of the population], because they have the lowest levels of Hebrew and general studies. The foundation subsidizes programs that bring Arab children to the Bloomfield Science Museum and afterschool enrichment activities that teach haredi kids English and science, which they don't get at their schools.
How has the foundation partnered with Hadassah?
We have supported various maintenance projects and medical equipment purchases at the medical center. We also helped establish its gastroenterology unit, pediatric oncology unit and an oncology day care center. Today, our focus is on the cultural competency program, which trains staff to be sensitive to cultural and other differences. It started at Hadassah Mount Scopus in 2015 and now operates at Ein Kerem as well.
Renee Ghert-Zand, a freelance journalist covering Israel and the Jewish world, lives in Jerusalem.