Hadassah Magazine Wins Big in Journalism Awards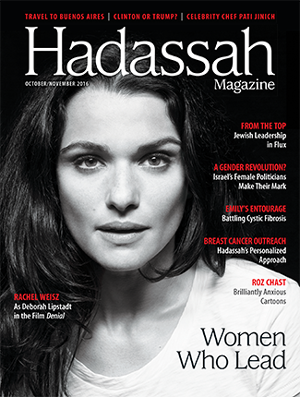 Hadassah Magazine has won seven Simon Rockower Awards, the annual prizes handed out by the American Jewish Press Association, for work published in 2016.
Our April/May 2016 special section "Crossing Borders," a collection of four features that explore the perilous journeys that Jews and other at-risk populations have made in search of freedom as well as the efforts of an Israeli NGO to aid refugees, won first place for excellence in special sections or supplements. Authors who contributed to that section include Leora Eren Frucht ("Rewriting a Greek Tragedy"); Roberta Elliott ("Easing a Brutal Journey"); Patricia Giniger Snyder ("Passage Over the Pyrenees"); and Elizabeth Rosner ("Letter from Sosúa: Saved by Reverse Discrimination").
Leora Eren Frucht separately earned a second-place prize for "Rewriting a Greek Tragedy" for excellence in feature writing.
Of special note to us, the premier issues of our redesigned magazine were awarded the top honor in the category excellence in overall graphic design.
From our inaugural October/November issue, Rahel Musleah's "The Gloriously Anxious Art of Roz Chast" won first place for excellence in personality profiles as well as second place for excellence in arts reporting. Allison Kaplan Sommer's feature "Israel's Political Gender Revolution" won the top spot for excellence in covering Zionism, Aliyah and Israel.
Rahel Musleah will be taking home first and second place awards in the personality profile category: Her December 2016 feature on Ruth Bader Ginsburg, "Supreme Champion of Justice, Gender Rights and Inclusivity," won second place.
"These awards demonstrate Hadassah Magazine's ongoing commitment to superior journalism," said Lisa Hostein, the magazine's executive editor. "We are particularly proud to be recognized for our focus on women making an impact—from Supreme Court Justice Ruth Bader Ginsburg to artist Roz Chast to Israel's female Knesset members—and for a special section devoted to the timely issue of refugees.
"We are also thrilled to be the magazine awarded first place in the category of overall graphic design, which further confirms the positive feedback we have been getting after having completely redesigned the magazine in October 2016."
Click here for a full listing of 2016 Rockower Award winners.