Now at Bat, Children of Israel's Foreign Workers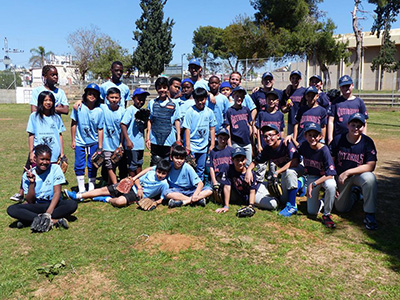 "What's the lineup?" yells Shai, a fifth-grader at the Bialik-Rogozin School in south Tel Aviv, as he walks out of the school building and into the yard. He sees other kids, boys and girls, milling about, so he takes charge. "Miklas go first, then Emmanuel and Sami."
The yard at the Bialik school is smaller than the standard baseball field, nevertheless Shai and his friends are happy to be outside swinging bats and catching balls. What makes this group of youngsters different from most Israeli fifth- and sixth-graders are that they are children of foreign, or guest, workers. Shai's parents, for example, are from the Philippines and work as caregivers for elderly Israelis. His friend Miklas is from Eritrea. They are learning to play baseball as part of a special program at Bialik that caters to children whose parents have come to the country for temporary work or refuge.
More than 80 percent of the 750-plus students in grades K through 12 at Bialik are children of foreign worker. According to Bialik principal Eli Nechama, there are around 300,000 foreign workers in the country, a number that includes both legal and illegal workers, the majority from the Philippines, West Africa and Romania. About 70,000 of them live in Tel Aviv, most in the seedy lower-middle class neighborhood where the Bialik school is located. Children of foreign workers are often not registered with the municipality so their numbers are hard to track.
Israeli law mandates that any child who has lived in the country for three months is entitled to basic education, health care and welfare. Bialik's students include not only the children of guest workers but new immigrants and refugees, too.
"The Bialik school gives them a feeling of belonging," notes Nechama. "Their parents work long hours as caregivers, and at menial tasks in restaurants and supermarkets. The school provides a place to go. And sports offer foreign workers' children the opportunity to interact.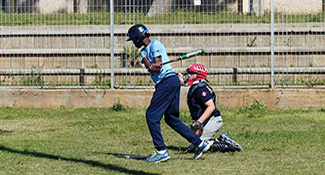 "The children learning baseball feel special," explains Nechama, "perhaps because of the uniforms and shiny aluminum bats—and most of all, the fact that it's American."
And, he adds, "their parents are proud of the fact that their children play baseball as well as the more common Israeli sports like soccer and basketball."
Miklas steps up to the plate. The thin, muscular sixth-grader slams the ball, running the bases while the other team scrambles to catch the ball in the outfield. "A home run!" one of his teammates yells.
Another jumps up and down, shouting "Yesh"—an Israeli expression of affirmation. Then Sami, an 11-year-old from Ghana, steps up to the plate and hits the ball into the outfield. He makes it to first and starts for second but, realizing he won't make it, tries to get back to first and is tagged out.
Sami argues with the umpire, to no avail, and walks off the field sulking. He returns in 10 minutes. Coach Ophir Katz asks him, "Why did you get so upset?"
"You didn't stand up for me," Sami answers, scowling.
"How could I? You were off the base," Katz tries to explain. He patiently summarizes the rules of the game with Sami. "It's a matter of getting used to it. You haven't been playing that long."
The students only began learning the game last year as part of an afternoon enrichment program and sports curriculum. These kids will continue the program next year, too.
By the time the kids are in seventh grade, says Katz, these kids will be integrated into the Israel Association of Baseball's Tel Aviv team and be able to play in the country-wide league.
Until that time, they have a chance to gain confidence as well as play against other local school teams.
"We played Kiryat Ono last week," reports Dennis, originally from Eritrea. They're called the Barbarians, and we're the Elephants. We won, and then we all ate pizza together."
"The big difference between the Israelis and the children of foreign workers," says Katz, who also coaches IAB teams, "is that the children of foreign workers are very vulnerable. They have a fear of failure. How could it be otherwise? They live in tough neighborhoods where there's a lot of violence. They are very aware of reality."
The issue of identity is tangible for these children. They imbibe Israeli culture yet, since they and their parents are not citizens, they live on the edge of Israeli society. "They know that they are not Jews, and their parents live in fear of deportation," says Katz, about those in the country illegally. And yet, many have lived in Israel for years. They speak Hebrew fluently, and live by the Jewish calendar.
Shai was born here, and his friends call him, teasingly, "the real Israeli." Miklas, from Eritrea, realizes that he won't be able to stay in Israel forever. "We can't go back to Eritea. It's too dangerous," he explains. "My family hopes to eventually settle in Canada."
Eustice, a tall, thin girl from Nigeria, waits for her turn to bat. She has been in Israel for eight years. "My father's lived here 11 years," she says, "but I want to go back home." She describes the hostility that many Israelis who live near Bialik have expressed toward the foreign workers, accusing them of selling drugs and increasing crime in the neighborhood.
The Bialik school's focus on nurturing a sense of belonging in its disadvantaged student population derives from just this type of antipathy. And its sport program provides a welcome respite from the worries these children face, as well as an outlet for youthful fun and exuberance.
"I've seen baseball on TV and in the movies," says Shai, swinging the bat in his hand. "I wanted to learn something new, and baseball teaches a person to focus on his goals."