Disadvantaged Youth in Israel Find a Home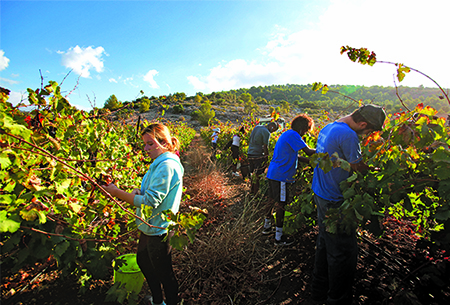 Just outside the sprawling, gated Hadassah Neurim Youth Village, waves are crashing along the stunning Mediterranean coastline. Inside, Lola Lokovsky is sitting cross-legged on a worn-out couch in a combination school office and laundry room. A rickety dryer is spinning in the background, making a racket that almost drowns out the sound of the waves.
Born in the former Soviet republic of Belarus, Lola, 17, arrived in Israel with her mother a decade ago. She can't remember her father, who all but disappeared when she was a toddler. He knows she's in Israel, she says, but has never sought her out.
A pretty girl with light brown hair and hazel eyes, Lola bounced around from school to school and finally landed at Hadassah Neurim last year. She fits in fine, says a schoolmate, but there is something aloof about her. She often suggests that she doesn't care about stuff—little stuff like whether she'll attend the school's soccer game that afternoon, and big stuff like her relationship with her mom. The two don't speak anymore, but Lola insists it's no big deal. Her mother's boyfriend is even worse. It's he who turned her mom against her, she claims. "I might miss having them in my life, but they are missing out on me, too."
Lola is one of some 12,000 teenagers currently living in Israel's several dozen youth villages—three with close ties to Hadassah, the Women's Zionist Organization of America—scattered around the country. Often described as an Israeli version of a European boarding facility, the schools-cum-group homes typically boast large tracts of land and impressive amenities; agricultural or vocational components to their educational programs; a holistic, all-encompassing approach to communal living and studying; and a team of dedicated, onsite staff.
The majority of the students, grades seven through 12, come from disadvantaged, troubled and sometimes abusive backgrounds. Others have emotional, psychological or behavioral difficulties. But the villages, each with a slightly different focus—from carpentry to computers to cattle—have attracted other populations as well: star athletes who want to board and focus on their sport, gifted students from development towns who lack educational opportunities closer to home and children from middle- and upper-class families who want to live and study with a broader swath of the population. There are also Bedouin and Druze students and, most recently, a handful of Eritrean children, alone in the country, who arrived in Israel seeking asylum.
Less than an hour's drive from Hadassah Neurim is another Hadassah-affiliated youth village, Meir Shfeyah. There is no sea to gaze at here, but it's equally as sprawling and inviting, with the Carmel Mountains rising in the near distance, expansive lawns, a dairy farm, basketball courts and a swimming pool among the trees. It also boasts a small model Ethiopian village complete with traditional living huts and cooking spaces—a nod to the school's many Ethiopian students, who led the effort to build it.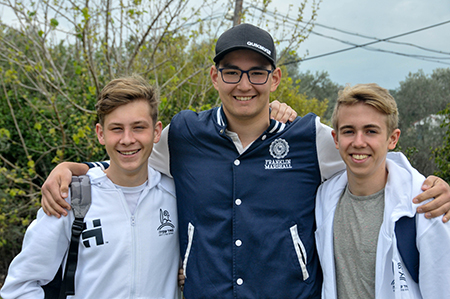 On the benches outside the stone synagogue at Meir Shfeyah, next to the library, Anton Teplickiy is shooting the breeze with his friends. Anton, who, like Lola, grew up without a father, is from Siberia. The blond, slight 18-year-old with a mischievous smile doesn't seem to want to discuss details, only that his dad died when he was a kid. When Anton thinks of his father, he says, he thinks of his scruffy beard. He would chase Anton and his sister around their living room and then hold them close and give them scratchy kisses. That is pretty much all he can remember. One thing he didn't remember, or maybe never really knew when he was young, was that his dad was Jewish.
So in 2014, when representatives of Israel's Ministry of Education and the Jewish Agency for Israel visited Anton's hometown of Omsk to find participants for their Na'ale program—which recruits teenagers from the former Soviet Union and elsewhere in the Diaspora—he didn't immediately register a connection. But it got him thinking and he went home to ask if maybe he, too, had some Jewish ancestors. His paternal grandmother was not at all religious and had never spoken about her Jewish heritage. And she certainly didn't want anyone in her family moving to Israel. "Once I started talking about going, she would say 'No! No! There is war there! Don't go!' " Anton relays with a laugh.
​But he did go. Later that year, at the age of 15 and with one small suitcase in hand—stuffed with a wooden toy his carpenter dad had made for him, lightweight clothes and a photo of his mom and sister—he boarded a flight to Tel Aviv. "I had zero idea what was to come, but I had a feeling it was right," he says, adding with a grin as if by further explanation: "Have you ever been
to Siberia?"
The inspiring story of these youth villages began on January 30, 1933, the day that Adolf Hitler was named chancellor in Germany. Recha Freier, a teacher, musician and poet, was living in Berlin at the time with her rabbi husband and four children. With a premonition of the horrors that were to descend on Europe—and in the face of opposition from the local Jewish establishment—she started raising funds and agitating for Jewish parents to send their children to Palestine. Thus was born a movement that would come to be called Youth Aliyah.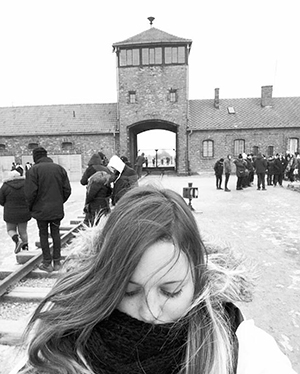 Across the sea, in Jerusalem, 74-year-old Hadassah founder and Zionist leader Henrietta Szold was asked by the Jewish Agency, which had adopted Freier's program, to become Youth Aliyah's director in Palestine. Under the stewardship of these two women, between 5,000 and 7,000 young boys and girls were rescued from the Nazis and resettled in British Mandate Palestine. Immediately after the war, thousands more—by some accounts as many as 15,000 children, the majority of them Holocaust survivors—joined their ranks.
These children were originally placed in kibbutzim and then, as their numbers kept growing, in newly established youth villages. The youngsters received an education and professional training. But more importantly, they became part of a community and gained a sense of belonging, in this case to what would soon become a country they could call their own.
Over the years, Youth Aliyah has changed bosses, first becoming a full department of the Jewish Agency and then, in 1995, part of the Education Ministry's Administration for Rural Education and Youth Aliyah, under whose auspices it is run today. Its mission and scope has also evolved as the model adjusted itself to the needs of different times.
While some of the youth villages closed after the generation that had survived the Nazis graduated, others were repurposed. The villages began welcoming young immigrants from North Africa, Iran, Turkey, Latin America and then Europe all over again. Starting in the early 1990s, for example, the villages were mostly comprised of youth from the former Soviet Union and Ethiopia, children born in those countries as well as those who came to Israel when they were young as part of the mass aliyah from those lands.
Since the inception of Youth Aliyah, an estimated 600,0000 youngsters—from Israel and 80 other countries around the world—have graduated from a youth village, according to Ron Freizler, general manager of the Education Ministry's Boarding Schools and Youth Villages Section in the Administration for Rural Education and Youth Aliyah.
Close to 90 percent of those in youth villages today are from low socioeconomic households, Freizler notes, "but it's wrong to say that these are problem children. These are great children we are educating." Of the 45 facilities that currently fall under the youth village rubric, only some of them have a historical tie or programmatic connection with Youth Aliyah. Most of the villages are newer and associated with other programs or institutions.
Today, the story of the villages that once provided refuge for children escaping the Nazis has become the story of the Lolas of this world, who have no parents to welcome them home. It has become the story of the Antons, discovering their Judaism and heading to Israel with the hope of brighter futures.
It's also the story of those like Haim Teruneh, 17, the son of immigrants from Ethiopia who lives at Hadassah Neurim just a couple of dorm rooms away from Lola. One of seven siblings, Haim sports a crew cut and a big gold earring. He says he was bullied at his old school and told to "go back" to Africa, even though he was born in Ramle. A regional soccer star who plays for a team in nearby Netanya, Haim—and at least a dozen others on his team—chose to live in the youth village three years ago to be closer to the venue where he practices daily. The way he became accepted and integrated at Hadassah Neurim has been unlike anything he had previously experienced. "This place is for me," he says, perched on a big swing in the courtyard outside his dorm, his flip flops dangling. "Here they give you a lot of opportunities. If you mess up—say, fail an exam—someone helps prepare you to take it over." Still, the level of academics is high. "They mean business here," he stresses. "And no one, not the teachers and not the other students, makes you feel like you are an outsider.
"This place is about boosting you up. Just look at Kahlon," concludes Haim, referring to Israeli Finance Minister Moshe Kahlon, a 1978 Hadassah Neurim graduate considered by some to be a rising star in Israeli politics. One of seven children born to Libyan Jewish immigrants, Kahlon has often credited his years at the youth village with making him into the man he is today.
"The village turned a group of delinquents into citizens and successes in life," the Likud Party member said during a visit to the campus last year.
Some 30 percent of incoming students to the youth villages today are part of the Na'ale program. Among them are Yakov Sapozhnikov and Daniel Simonenko, friends of Anton's at Meir Shfeyah who have just graduated along with him. Yakov, 18, is from Kazakhstan; Daniel, 17, is from Ukraine. Like Anton, they have Jewish fathers but never knew much about their Jewish heritage before being recruited to come to Israel. Yakov's mother is Muslim, Daniel's is Christian.
Sitting on a bench between math and history classes, the three young men are discussing their plans for next year. Most students go directly to the military upon graduating, or opt for what has become common for Israeli high school graduates—participating in a mechinah, or gap year, before serving in the Israel Defense Forces. Like many Na'ale students, they now take it for granted that their futures will include both military service and formal conversion to Judaism, the latter process made easier by a speedy conversion program available to soldiers. Some 97 percent of all students at Meir Shfeyah go to the military at some point and 50 percent do a gap year of learning or community service.
"I didn't want to go to the army when I first arrived here," says Yakov. "But I have been thinking about it and it's become more appealing."
"It's an experience that is part of being Israeli now," chimes in Daniel. Both he and Yakov have decided to attend a six-month mechinah pre-army training program in Jerusalem.
"And it's the right thing to do—to give back to the country that took us in," adds Anton, as his friends roll their eyes at the cliché, even as they agree with the sentiment. Anton will go directly to the military this summer.
Back at Hadassah Neurim, Lola has her share of complaints about school: The kids are immature, the girls care too much about their looks, the boys care too much about soccer. But, she says, cracking her first smile during a lengthy interview, this place has been a haven—"completely."
When she arrived in this country, she recalls, it was just her and her mother trying to navigate their new circumstances. They had never given much thought to Israel before coming here and, in fact, never considered themselves Jewish. Her maternal grandfather was Jewish, which is what gave her family the opportunity to make aliyah. "It's not like we were Zionists or anything," she says. "I guess mom just thought life could be better here."
And it was. Her mother got a job in Ramat Gan working at a "massage parlor sort of hair dressing place," says Lola, who ended up in a boarding school in Jerusalem that prepared its students for military careers. Then her mother met a man and they moved in together and had a child—Lola's half-brother, who is now 7.
Although Lola has not converted, she came to like things about Jewish life she picked up through friends at her Jerusalem school. She liked to hear the Kiddush on Friday, and she liked celebrating the holidays. So it was especially painful when, two years ago, Lola's mother and her boyfriend took their son to Eilat for a Passover seder and left Lola behind. Soon after, Lola moved into the home of her boyfriend's parents and then got into a big fight with her mom that ended with Lola being barred from returning home. Eventually, with the guidance of her old school and the help of her boyfriend's parents, she found out about Hadassah Neurim.
With one more year of high school to complete, she is anticipating her army service and what she might do later in life. One thing Lola knows: She wants to have a family, she says, "a better one than the one I grew up in."
Feeling a sense of belonging is an initial challenge for many of the students, including Haim, the soccer player. "Most of us, especially at first, feel we don't belong anywhere," he says, "but that changes."​​
Anton expresses a similar sentiment about his journey toward belonging. The summer after he first arrived in Israel, he returned to Siberia for a monthlong visit. Anton had missed home and, for a day or two, it was wonderful seeing family and old friends. And then, he recalls, he panicked. "When I went back, I felt everything had stayed the same, but I had changed," he says. "I realized my whole life I had been like a horse with blinders. Once I saw a different world, I no longer belonged in Siberia."
Soon, Anton's mother followed her son to Israel and today lives in Haifa. His older sister stayed behind, and although they speak on Skype, he has not seen her in three years, nor met his baby nephew. "She chose to remain there," says Anton, who speaks almost fluent Hebrew, as do most of the students. He and his friends run off to get the key to the synagogue to show it off. Yakov pulls a little kippah out of his back pocket. He bought it on eBay, he explains, before a recent school trip to Poland, because he knew he would need it there. Anton doesn't have a kippah on him, but upon entering the building, he pulls the hood of his sweatshirt over his head as a sign of respect.
"I have been embraced by a new life here. So this is where I am," he says simply, and "also who I am."
Danna Harman, a Jerusalem transplant to London, writes for Ha'aretz and other publications.
Providing So Many Extras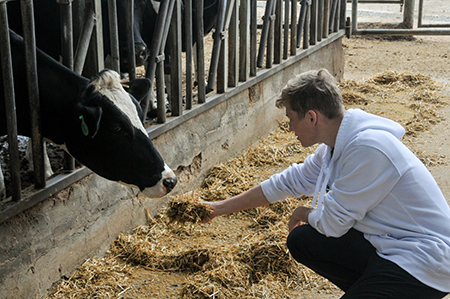 With its historical connections to Youth Aliyah, Hadassah, the Women's Zionist Organization of America, remains deeply involved in the endeavor today. In varying degrees, HWZOA helps to support three youth villages: Meir Shfeyah, located in the Carmel Mountains near Zichron Ya'akov; Ramat Hadassah Szold Youth Village, southeast of Haifa, where 70 percent of the residents come from Ethiopian or former Soviet republic backgrounds; and Hadassah Neurim, between Netanya and Moshav Beit Yanai.
Over the years, according to Barbara Goldstein, deputy director of Hadassah Israel, HWZOA has raised millions of dollars toward enriching the programs at these youth villages.
​At Hadassah Neurim, for example, there is a special needs program and a sports track for athletically gifted students as well as other innovative opportunities such as animal therapy, car mechanics and carpentry. At Meir Shfeyah, alongside the computer rooms, library, sports stadium, greenhouse, chicken farm, dairy and small model Ethiopian village, there is also a winery, begun in 2005, which produces some 5,000 bottles of premium wine annually and is run with the help of 11th- and 12th-grade students.
HWZOA's involvement extends from renovating old buildings and laying the cornerstones for new ones to raising funds for projects such as a state-of-the-art music center, a swimming pool and subsidizing school trips. HWZOA donations enabled seniors from Meir Shfeyah and Hadassah Neurim to join an Education Ministry delegation to Poland in February, when the students visited Auschwitz and other sites. The subsidies covered not just travel expenses, but also warm coats and snow boots for those who could not afford them.
HWZOA also has helped set up programs that encourage graduates from these youth villages to stay connected. There are post-graduation meet-ups, and lone soldiers on leave are able to return to their former schools to do laundry, watch television, enjoy a good meal, a bed and some love from the staff.
Goldstein was moved by Meir Shfeyah's recent graduation, where one girl, Hila, who came from a dysfunctional family and now plans to become a nurse, received a computer as an award for excellence. Another student, Alexei, was elated by a surprise visit from his mother. He hadn't seen her in three years, and she was brought over from Odessa by the school.
"There are so many stories," Goldstein says, "so many obstacles each student had to overcome to get to this day."