Sitting on the Hebrew Fence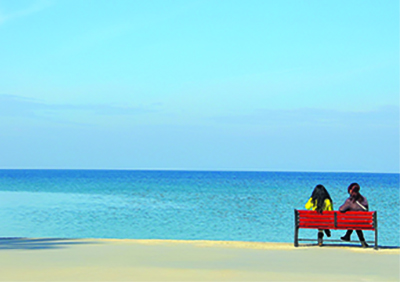 We all know about Balaam's ass, the talking donkey that berates its master, but what of Abraham's donkey in the biblical story of the Sacrifice of Isaac? We encounter the donkey in Abraham's command to his servants, שְׁבוּ‭ ‬לָכֶם‭ ‬פֹּה‭ ‬עִם‭ ‬הַחֲמר‭ ‬(shevu lakhem po im ha-hamor), "Sit here with the donkey." The donkey's job is ostensibly לָשֶׁבֶת (la-shevet), to "hang around," while Abraham takes his son Isaac up to Mount Moriah. The Midrash suggests that the donkey underscores the servants' indifference to the extraordinary nearby event. The Hebrew language, for its part, makes much of the root‭ ‬י‭-‬ש‭-‬ב‭ ‬(yod, shin, vet), to sit, inhabit, populate.
​The root appears some 800 times in Scripture: An aged Abraham ‭ ‬יֹשֵׁב‭ ‬פֶּתַח‭ ‬הָאֹהֶל‭ ‬(yoshev petah ha-ohel), "is sitting at his tent's entrance," when angels arrive to announce his future paternity. After 40 years of wandering, the Israelites enter Canaan, ‭ ‬אֶרֶץ‭ ‬נושָׁבֶת (eretz noshavet), "a populated land." On Tisha B'Av, which begins this year on the evening of July 31, we lament that a formerly densely populated Jerusalem after the destruction of the Temple is ‭ ‬יָשְׁבָה‭ ‬בָדָד (yashva vadad), dwelling in solitude. In the prestate‭ ‬יִשּׁוּב (yishuv), settlement, of Palestine, soldiers of the Palmach used another psalm while sitting around the campfire, singing, "How good and pleasant it is," שֶׁבֶת‭ ‬אַחִים‭ ‬גַם‭ ‬יָחַד (shevet ahim gam yahad), "for brothers to sit together."
​Biblical judge Deborah‭ ‬ישֶבֶת (yoshevet), sits in judgment, under her palm tree, while rabbinic Hebrew uses the infinitive‭ ‬לֵישֵׁב‭ ‬(leishev) in connection with court proceedings. Rashi, the great Torah commentator, asserts that his function is ‭ ‬לְיַשֵׁב‭ ‬פּשׁוּט‭ ‬שֶׁל‭ ‬מִקְרָא (le-yashev peshuto shel mikra), "to provide a solid 'seat' on which to base the plain meaning of the biblical text."
Israeli songwriter ​Arik Einstein sings of an indecisive friend who ‭ ‬ישֵׁב‭ ‬עַל‭ ‬הַגָּדֵר (yoshev al ha-gader), "straddles the fence." In today's Hebrew, a משָׁב (moshav) can refer to a cooperative settlement, a car seat, a home for the aged or even the Russian Pale of Settlement. In addition, יְשִׁיבָה (yeshivah) can allude to the sitting position, a business or political meeting or a talmudic academy. And what about both sides of יַשְׁבָן (yashvan)? According to the word's coiner, journalist Itamar Ben-Avi, son of Eliezer Ben-Yehuda, the reviver of the Hebrew language, it denotes a "colonizer." For the rest of us, it's the part of our body we sit on. Whether we talk or remain silent depends on how much יִשּׁוּב‭ ‬הַדַּעַת (yishuv ha-da'at), peace of mind, we have.
Joseph Lowin is the author of the recent book, Art and the Artist in the Contemporary Israeli Novel, which is a study of eight Israeli masterpieces.