Hadassah Collaboration Bears Fruit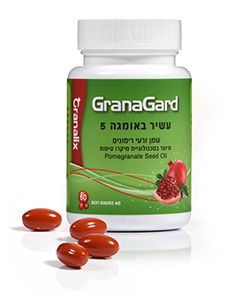 Significant Jewish lore surrounds the pomegranate: Its number of seeds—613 according to rabbinic tradition—is thought to correspond to the number of mitzvot in the Torah. And, on Rosh Hashanah, the large red orb often serves as the "new fruit" traditionally eaten to welcome the New Year.
​But what if the pomegranate offers more than spiritual sustenance and Jewish metaphor? Professor Ruth Gabizon of Hadassah Hospital's Department of Neurology and Hebrew University's Professor Shlomo Magdassi are the chief scientists behind Granalix, a biotechnology startup founded by the pair under the auspices of Hadasit and Yissum, the respective technology-transfer companies of the Hadassah Medical Organization and Hebrew University. The collaboration is now bearing fruit: GranaGuard, a submicron self-emulsion formula containing pomegranate seed oil that boasts high concentrations of the strong antioxidant punicic acid, has now come to market. The dietary supplement, ingested as a pill, has been shown in mice to delay onset of neurodegenerative diseases such as genetic prion disease and to lessen the impact of multiple sclerosis.