Motivate & Mobilize (and Bake): Hadassah in St. Louis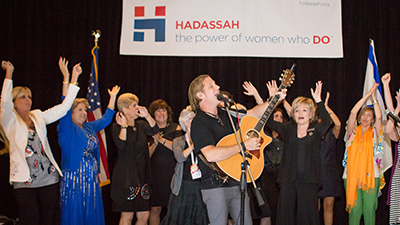 Hadassah members answered the call this summer to meet in St. Louis when they convened at the National Business Meeting and Symposium on July 18 and 19. Participants moved from thoughtful panels to policy meetings to lively, music-filled celebrations at the Ritz-Carlton, St. Louis. And while the overall focus may have been national, the 100th anniversary of the St. Louis chapter spurred hometown pride and the opportunity to acknowledge the hosting chapter at the banquet dinner.
​Participants heard from Hadassah National President Ellen Hershkin; learned about innovations at Hadassah Hospital from Dr. Zeev Rotstein, director-general of the Hadassah Medical Center; partook in a live episode of Hadassah's Defining Zionism speakers' series, with panelists Andrew Rehfeld, Sara Zebovitz and Shahar Azani; and learned new ways to respond to anti-Semitism in their local communities.​
The membership division unveiled its newest campaign: Enroll as a life member between September 1 and April 15, 2018, submit a 100-word message on what "The Power of Women Who DO" means to you, and you will be eligible to participate for free on a Hadassah Mission to Israel or a VIP Hadassah trip to New York.
​So what did everyone eat? As part of Every Bite Counts: Hadassah's Nutrition Program, Hadassah food guru Shannon Sarna, editor of the uber-popular Jewish food site TheNosher.com, was on hand for a live cooking demonstration. Attendees were handed recipe cards for Whole Wheat Banana Zucchini Bread (recipe below) before watching Sarna whip up the healthful treat herself. (Prior to the event, Ritz-Carlton chefs had baked several loaves of the seed-crusted bread, so no one left hungry.)
​Hungry for more camaraderie? From Passion to Action: The Hadassah Women's Health Summit and Conference, Hadassah's next national meeting, will take place in Washington, D.C., May 15-17, 2018.
Whole Wheat Banana Zucchini Bread
Makes 1 loaf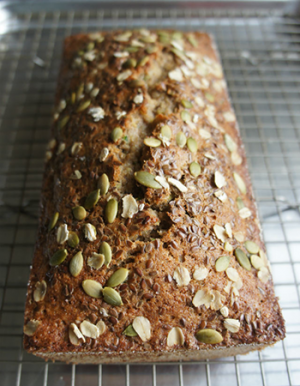 1 cup whole wheat flour
1/2 cup unbleached all-purpose flour
2 tablespoons ground flax seed
1 teaspoon cinnamon
1/2 teaspoon salt
1/2 teaspoon baking soda
1/8 teaspoon baking powder
1/2 cup vegetable oil
2 eggs
3/4 cup sugar
1 teaspoon vanilla
1 small to medium zucchini, coarsely shredded
1 banana, mashed
Whole flax seeds, pumpkin seeds and oats (option)
Preheat oven to 375. Grease a loaf pan and coat it with sugar.
Mix the flours, flax seed, salt, cinnamon, baking soda and baking powder in a medium bowl.
Whisk together the eggs, oil and sugar. Add the vanilla, mashed banana and shredded zucchini.
Add the wet mix into dry ingredients until combined. Pour batter into prepared pan. Top with whole flax seeds, pumpkin seeds and/or oats, if desired.
Bake for 40-45 minutes or until a toothpick inserted comes out clean.