Virtual Holocaust Education, an Interactive Exhibit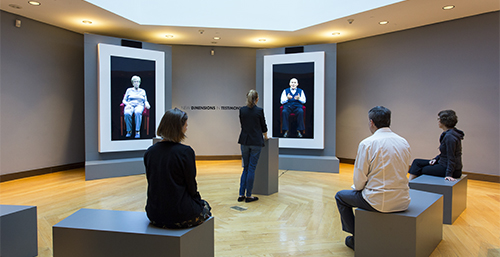 Pinchas Gutter nods as I enter the gallery at Manhattan's Museum of Jewish Heritage—A Living Memorial to the Holocaust. Eva Schloss greets me with a smile. Both survivors are seated comfortably in red twill armchairs. I'm stunned at how real they seem, their life-size images, complete with gestures, projected in high definition onto six-foot monitors for the exhibit "New Dimensions in Testimony."
"Hi, Pinchas, nice to meet you," I begin, standing in front of a microphone and holding down the button on the mouse to talk. I release it to hear a response.
"Hello," he replies.
"What does it mean to you to be called a survivor?" I ask.
"To be a survivor is to be a privileged person," he says, smiling slightly. "Sometimes it's to be a tormented person; sometimes it's a lucky person. Sometimes you think, 'Why am I different than anybody else?' So you try to forget." His eloquence gives me goosebumps.
As a former interviewer for the Shoah Foundation, I recalled the emotionally draining preparation and aftermath of every interview. I wasn't sure what to expect from the virtual conversation with the recorded image of a survivor that is at the heart of "New Dimensions in Testimony," developed by the USC Shoah Foundation in collaboration with the USC Institute for Creative Technologies. Despite the distractions of being in a public space, I found the experience touching. I was even emboldened to pose questions I might otherwise have hesitated to ask.
The exhibit opened on September 6 and runs through December 22, 2017 at the downtown Manhattan museum. As the technology allows the exhibit to run in multiple locations as the same time, it is also being installed permanently at the Illinois Holocaust Museum and Education Center in Chicago on October 29, in the museum's Take a Stand Center, where, for the first time, the holographic installation will have a more three-dimensional feel. Museum visitors will typically participate in moderated sessions with a docent and also have the opportunity to ask their own questions. The testimony will be available as a resource to other museums and learning institutions.
The project is the brainchild of Heather Maio Smith, managing director at Conscience Display, a firm that specializes in exhibition design and interactive digital storytelling. The groundbreaking natural-language software used in the exhibit is powered by complex speech-recognition algorithms that provide realistic conversation. "There is great anxiety in the field of Holocaust education as to what we will do when all the survivors are gone," says Smith, 50, wife of Shoah Foundation executive director Stephen Smith. "I couldn't imagine a world in which my grandchildren would not be able to ask a Holocaust survivor their questions. That broke my heart."
The exhibit is also a vivid experiment in language: The key element is the system's ability to transcribe and analyze questions and find the most appropriate response. Whether visitors ask, "Where were you born?" or "Do you believe in God?" data is captured and processed into video segments that can be played back verbatim. "We made a conscious choice not to manipulate voices or responses," Smith stresses.
Gutter, 85, a Toronto resident and honorary cantor at the Kiever Shul, was the first of 12 survivors to be trained and interviewed especially for this project. He answered hundreds of questions in a variety of iterations over the course of 5 days, captured by 52 cameras arranged in an arc. Gutter has 30,000 different versions of questions in his database and over 1,900 responses.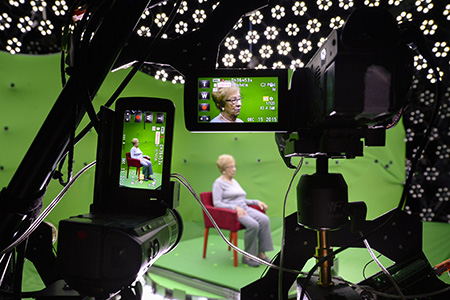 "Five-minute summary," I speak into the microphone, and he packs the details of his life into a concise retelling. He and his family fled Lodz for Warsaw and were transported to Majdanek when he was 11. His parents and twin sister Sabina perished there; he survived four camps and was liberated at Terezin. "Every time I talk, and every time you listen to me, you get a little piece of me which is now embedded in you," he says.
A survivor of Auschwitz-Birkenau, Schloss, 88, a London resident, is the posthumous stepsister of Anne Frank. The exhibit marks her pilot testimony in "New Dimensions of Testimony." Schloss didn't know Anne well as a child, but after the war, her mother married Otto Frank, Anne's father. Her databank has far fewer versions of questions and answers—about 12,000 questions and 1,250 responses—so the interaction with her is often frustrating. "Would Anne be happy that her diary was published?" is met with a recounting of Otto's decisions in publishing the diary. "What do you think your responsibility is as a survivor?" "I don't think so, no," she answers. Those missed opportunities are in fact part of tweaking the technology: The technology becomes more precise the more questions it fields.
"Do you have any regrets?" I turn back to Gutter. He tears up. "I have lost the ability to remember my twin sister. I only remember her long braid." Later, he sings a Polish lullaby he learned from his mother. "It's about two children, a brother and a sister—me and my twin."