Finding Senior Empowerment in a Philadelphia Knitting Circle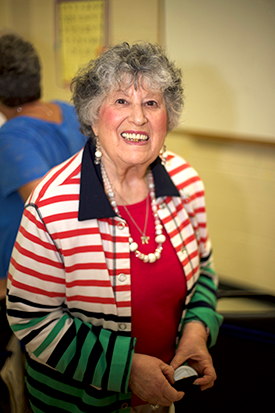 Mickie Levin, 85, has been knitting since she was 6 years old, when she began helping her mother make socks, hats and scarves for soldiers during World War II. Today, she is creating knitted panels for upscale Italian leather handbags at KleinLife, a Jewish community center in Philadelphia.
​At a weekly knitting circle, Levin and other seniors gather to craft the panels for the Mim & Ray handbag collection, launching this fall and named in memory of KleinLife's founders and main benefactors, Miriam and Raymond Klein. The knitters, who also work at home, are paid for their work. A percentage of sales goes back to KleinLife, giving the women a renewed sense of purpose and pride as well as financial support.
​"Our ultimate goal is to empower as many people as possible with our products," says Toby Strogatz, 64, lead designer and founder of TobyStephen Designs, Mim & Ray's nonprofit parent company. "It's fashion with a purpose. Friendship and camaraderie are woven into each stitch."
​"I feel very important and blessed that I can do this. It's a work of love," says Levin, a Philadelphia native who has already knitted over 100 panels. "I love to knit and if I can help other people, I'm in."
​The paycheck is a bonus, she says. "I am putting the extra money in my grandchildren's college fund and to help others in my family."
​Mim & Ray piggybacked on a small existing group of six that knitted for outside charities. It now draws 35 women from diverse backgrounds to KleinLife. Sheva Kruglikov, 70, emigrated from Kharkov, Ukraine, 27 years ago, and although she learned to knit at age 10, didn't have time for it until she retired from bookkeeping two years ago: "I worked; I had to learn English; I was busy, busy, busy." Now, she says, the project "fills up my life a little bit. I can express myself through knitting. Each bag is a piece of art."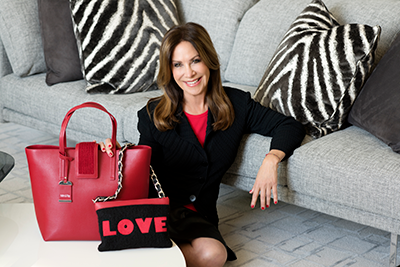 ​Hungarian-born Katie Willner, 84, a Holocaust survivor, began knitting again 11 years ago. "When I was little, girls learned to knit and sew but not be serious," she recalls. After the war ended, she lived in Israel for 13 years and, in 1960, immigrated to Philadelphia, where she and her husband owned a series of sandwich shops. "I never thought about knitting again until after my husband died. I felt lonely and bored and some friends recommended I go to the JCC," she says.
​A soothing, meditative and productive activity, "knitting makes me relaxed, which is a good idea," Willner says, adding that using her hands and fingers relieves her arthritis. "I'm helping the center and helping myself, too."
​Strogatz's road to KleinLife was also born of a search for healing. After her husband's death 14 years ago, she sold her interior design showroom, became a yoga instructor and therapist and, later, a certified positive psychology life coach. Seven years ago, she met Stephen Klein, the son of KleinLife's founders, its current board chair and now her life partner. With his encouragement, she introduced a health and wellness program at the center, which caters to a large elderly population in the northeast section of the city, where many Jewish immigrants from the former Soviet Union settled.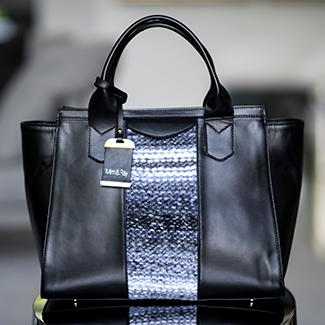 Mim & Ray's fall 2017 collection features 17 bags in five styles—totes, wristlets, pouchettes, crossbodies and hipsters—ranging in price from $125 to $3,650 (exotic alligator and lizard skin designs are the priciest). The bags are named for family members: The leather-fringed Toby tote can hold a computer and iPad, while the funky Jennifer bag, created by Strogatz's 27-year-old daughter and co-designer, is festooned with playful blue eyes. Toby's mother inspired the elegant Lilly bag, while the Riley fanny pack is named for Stephen's grandson. Even Winston, a family dog, has his day with a namesake wristlet.
​"Longevity is based in finding purpose and value," Strogatz notes. "The project has brought out some of the most important strengths in the women who participate: kindness, gratitude, love, team leadership, social intelligence and creativity. Their excitement has brought a whole new look to their faces."
Rahel Musleah, a regular contributor to Hadassah Magazine, also runs Jewish tours to India (explorejewishindia.com).