Aboard Jerusalem's Light Rail, Look Up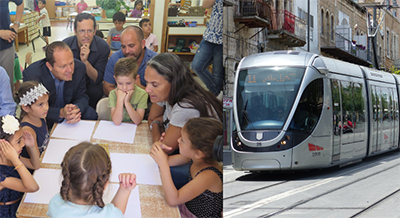 Just as Jerusalem children returned to school in September, some 5,000 renderings of the city by local kindergartners were exhibited on the ceilings of the capital's light rail trains.
​The participants in the project, titled Children Dream Jerusalem, represent the city's spectrum of kindergartens: Jewish, Christian and Muslim; secular and religious; and special needs. The project grew out of the preceding year's theme set by the Ministry of Education—a United Jerusalem—and involved a collaboration between the ministry, the city's Parents' Association, various municipal bodies and CityPass, a consortium that operates the light rail.​
​"Children who are educated in Jerusalem toward tolerance and respect for the other are the future and hope of a different Jerusalem," said Israel Eliassaf of the Parents' Association. "Change can happen only if you start at kindergarten."
​Because of the project's huge scope, the organizers have applied for a Guinness World Record.