Ancient Jerusalem Gets 'Smart'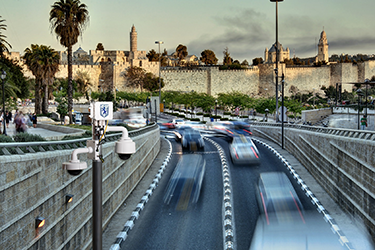 Prompted by security concerns, Jerusalem is slated to be the first city in Israel to install an ultra-fast wireless communications network using millimeter wave technology. The new system will enable use of a high-definition camera network that transmits videos to the city control center and security forces. It also will support emergency services, smart parking and traffic regulation, fast Internet for schools and free Wi-Fi service in some streets and parks.
​Work is already underway, and the project—similar to the United Kingdom's closed-circuit television network—is to be completed within two to three years, Eitan Barzilay, Jerusalem's head of business development and innovation, said in an email interview. Parts of the system are expected to be up and running by the end of 2017.
​Previously, fiber optics had been hailed as the latest revolution in communications. But in Jerusalem's rocky terrain, Barzilay said, the new technology is preferable. ​
​"You don't have the same flexibility with fiber optics that you have with the wireless network," he added. "For example, the wireless network moves from street to street on the roofs, and the picture [it provides] is clear."