Jews for Exegesis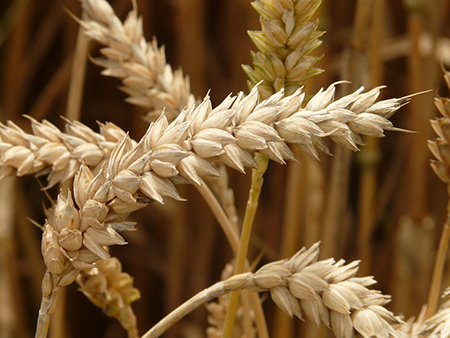 Often, words will leave the comfortable world of their plain, concrete meaning and soar into the realm of metaphor. Take, for example, the Hebrew root‭ ‬ד–ר–ש‭ ‬(dalet, resh, shin), to explicate. Originally, it was based on an agricultural term for separating the wheat from the chaff, ‭ ‬ד–ר–ס (dalet, resh, samekh), to trample, thresh. Soon enough, the new root was used figuratively to describe the way the rabbis of the Talmud would search for the deeper meaning of a biblical text.
In Scripture, the root is found in a wide variety of contexts. Proverbs praises the woman of valor for her industriousness, stating,‭ ‬דָּרְשָׁה‭ ‬צֶמֶר‭ ‬וּפִשְׁתִּים‭ ‬ (darsha tzemer u-phishtim), "she sought out wool and flax." In II Kings, the Israelite King Ahazia instructs his servants to דִרְשׁוּ‭ ‬בְּבַעַל‭ ‬זְבוּב (dirshu be-va'al zevuv), "inquire of Beelzebub," a local god, whether or not Ahazia will recover from life-threatening wounds suffered from his fall off a balcony. The Prophet Elijah, learning of this blasphemy, intercepts the servants on the way to their task and harshly informs them that the king will not re-cover. The Prophet Micah asks the ultimate question, מָה‭ ‬ה דּרֵשׁ‭ ‬מִמְּךָ (mah ha-shem doresh mi-mekha), "What does God demand of you?" before answering sublimely: "Do justice, love goodness and walk modestly with your God."
A familiar derivative of our root is the word‭ ‬מִדְרָשׁ (midrash), explication, which has meanings all over the lexical map. The Midrash is the part of the oral Torah that explains problematic or unclear passages of the written Torah by telling didactic parables. Our elders teach that לֹא‭ ‬הַמִּדְרָשׁ‭ ‬הָעִקָּר (lo ha-midrash ha-ikkar), "study is less central than acts." Other usages of the root include ‭ ‬דַּרְשָׁן (darshan), exegete, and דְרָשׁ (derash), homiletical exegesis. Many synagogues have an adjoining בֵּית‭ ‬מִדְרָשׁ (beit midrash), study hall. The term מִדְרָשָׁה (midrasha), coined by Eliezer Ben-Yehuda, connotes a post- secondary school for Jewish studies. The cognate Arabic madrassa is a school that teaches Islamic texts.
Come fall in Israel, you'll see flyers announcing דְּרוּשָׁה‭ ‬מְטַפֶּלֶת (derushah metapelet), "Nanny Wanted." During Israeli summers, there is very little  ‭ ‬דְּרִישָׁה (derishah), demand, for umbrellas. Capital cases call for דְּרִישָׁה‭ ‬וְחֲקִירָה (derisha ve-hakira), painstaking legal investigation. Casual conversations will often end with the plain-sounding abbreviation דַ‭ ‬ש (dash), "Regards," shorthand for the poetic expression ‭ ‬דְרִישַׁת‭ ‬שָׁלוֹם (derishat shalom), literally, plea for peace—a good way to end a column as well.
Joseph Lowin is the author of the recent book, Art and the Artist in the Contemporary Israeli Novel (Lexington Books), a study of eight Israeli masterpieces. Two collections of his past About Hebrew columns, HebrewSpeak and HebrewTalk, are available from Amazon.com.