Lioness: Golda Meir and the Nation of Israel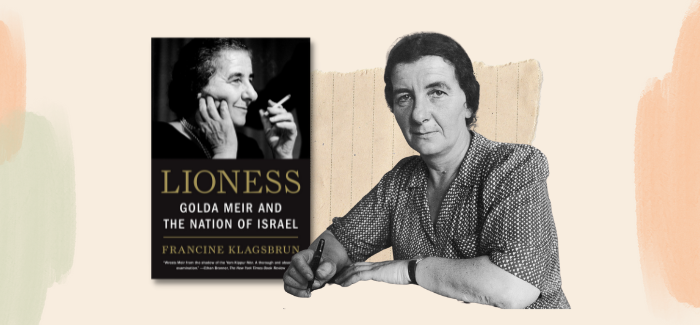 Lioness: Golda Meir and the Nation of Israel
By Francine Klagsbrun (Shocken Books, 856 pp. $40)
Francine Klagsbrun's prodigious biography of Golda Meir, Lioness: Golda Meir and the Nation, is more than just a biography of a seminal figure in Jewish history. It arrives at a propitious time in Israeli history. Now approaching its 70th year as an independent state, Israel is a stable, Western-style democracy with a thriving and innovative economy, despite continuing to face hostility in the Arab world and unrelenting anti-Semitism everywhere.
Almost 40 years after her death, Golda, as she was universally known, stands as one of the most important Jewish women of the 20th century. Russian born, American educated and a fierce Zionist since her teenage years, she immigrated to Palestine in 1921. As a young woman, she worked on a kibbutz and later navigated the shoals of Israeli politics for 50 years, sometimes nobly and sometimes with rock-solid stubbornness. She was autocratic and contradictory, tough and practical, intelligent and gifted. She put the destiny of the Jewish people above all else, sometimes wittily, sometimes pugnaciously and sometimes, she acknowledged, at a terrible price.
Over a 30-year period, Klagsbrun, author of more than 10 books, spent time withGolda's son, daughter, daughter-in-law and personal assistant as well as with family friends and bodyguards. Lioness goes far beyond previous hagiographic biographies to place Golda's personal life against the backdrop of the emergence of Israel on the world stage.
In adding to what we know of Golda's public life, Klagsbrun studied more than 1,000 documents; minutes of American, Israeli, British and Russian government meetings; and countless personal papers, diaries and recently declassified material.
On a personal level, Golda had a tempestuous relationship with her mother, a falling out with a sister, a failed marriage, poor relations with her children and grandchildren (never mentioning a granddaughter born with a severe birth defect) and romantic involvements with prominent Israelis like the Israeli president Zalman Shazar and her mentor, David Remez (and, perhaps, others).
Lioness recounts Golda's prominent role in the pre-World War II struggles of Israel's pioneers as well as her post-statehood service as ambassador to the Soviet Union, labor minister, foreign minister and prime minister. For someone so confident in her decisions, Golda never forgave herself for failing to mobilize Israel's reserves on the eve of the Yom Kippur War in 1973, despite her own strong intuition that something dreadful was about to occur.
Her tenacity and her political shrewdness were legendary, and she had the personal experiences to defend her decisions, which she rarely chose to do. Klagsbrun lays out Golda's monumental achievements but does not shy away from her failings, particularly her role in the important domestic changes in Israel as it moved away from socialism to a capitalist-oriented economy. Golda did not foresee the rising nationalism among the Arab population, the author says, and she was unable to overcome the feeling among Sephardi Jews that they were being treated as second-class citizens.
This rich biography of the iron-willed leader in a predominantly man's world is likely to be the defining testament to Golda's much-admired legacy.