Russian Émigré Women Carve Their Own Literary Niche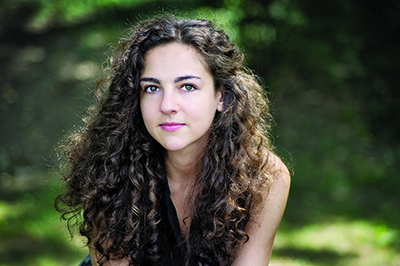 "It was definitely not a nice, clean amputation," declares writer Yelena Akhtiorskaya, whose family emigrated from Ukraine to the United States when she was a child in 1992. "A part of me is still there."
That longing and displacement are evident in her 2014 debut novel, the acclaimed Panic in a Suitcase
. The family story is set in both post-Soviet Ukraine and Brooklyn's Brighton Beach and centers on a Russian clan split between those who immigrated and those who stayed behind. "Ties hadn't been severed. Odessa remained theirs," Akhtiorskaya, 32, writes in the book about the family who chose not to emigrate.
Similar sentiments grip Ellen Litman, who moved from Moscow to the United States while in college. "The presence of that life is still in my head. There is always this question: What would my life be like if I was there?" says Litman, 44, whose 2014 novel, Mannequin Girl
, about a Jewish girl who struggles with scoliosis as her parents struggle with their marriage, is set entirely in Moscow.
These novelists are among a growing coterie of female Soviet Jewish émigré writers who have carved a literary niche for themselves in North America by exploring personal histories along with nostalgia for and connections to the Old Country. Their insights have won them both critical accolades and awards.
Part of an immigrant group dubbed Generation 1 1/2, the authors—a group that also includes Lara Vapnyar, Sana Krasikov and Anya Ulinich, among others—emigrated as children or young adults in the waning days of the Soviet Union, or soon after.
Theirs is a generation that was "born in Russia and made in America," says Roman Shmulenson, executive director of the Council of Jewish Émigré Community Organizations—the central coordinating body of the Russian-speaking Jewish community of New York.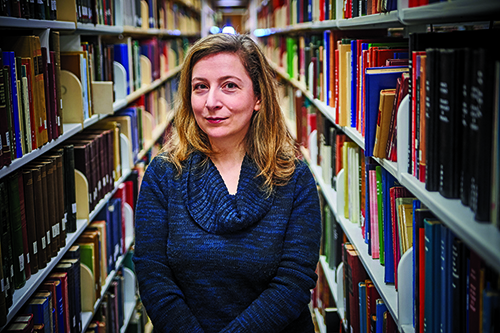 Émigré authors from the former Soviet Union first made a literary splash 15 years ago, with Gary Shteyngart's The Russian Debutante's Handbook, followed by works from David Bezmozgis, Boris Fishman and Michael Idov. This new crop of women writers, however, is both notably larger (over a dozen and growing) than their male counterparts and more prolific. Their fiction often features characters who are outsiders, both in their home countries and their adopted one, grappling with religion, relationships and cultural differences. And their chosen genres go beyond literary fiction and into comic tales, graphic novels and even a cookbook/short story collection.
The strange foods, foreign customs and landscapes described in these books—coupled with the familiar trope of the immigrant's story and touches of sardonic wit—have contributed to the authors' popularity. They have tapped into an audience, largely female, eager to read about multicultural characters created by immigrant authors, says Adrian Wanner, the Liberal Arts Research Professor of Russian and Comparative Literature at Penn State University. Fiction written by Russian Jewish female émigrés "has become a brand," he says.
This year alone has seen two debut works by writers born in the Soviet Union: Anna Fishbeyn's laugh-out-loud The Matrimonial Flirtations of Emma Kaulfield and Julia Alekseyeva's graphic novel Soviet Daughter, based on the memoirs of the writer's great-grandmother.
These writers are exploring their own conflicts and complex identities through mostly female characters—feisty relatives, beleaguered single mothers and women looking for love—who struggle to find a place either in their native or adopted country, where language and cultural differences keep them on the outside looking in.
Relationships in all their intricacies are common themes, as Vapnyar explores in her 2014 novel, The Scent of Pine
. The seemingly simple narrative features two individuals—Lena, an unhappily married professor, and Ben, a failed artist and fellow academic—who go on a road trip together to consummate their affair. As they drive to his Maine cabin, she reminisces at length about her past and her husband, a former soldier whom she met as a camp counselor in the waning days of the Soviet Union.
Vapnyar—who left Moscow in 1994 as a young adult and now lives in Manhattan—also examines personal connections in Broccoli and Other Tales of Food and Love, her cookbook/short story collection.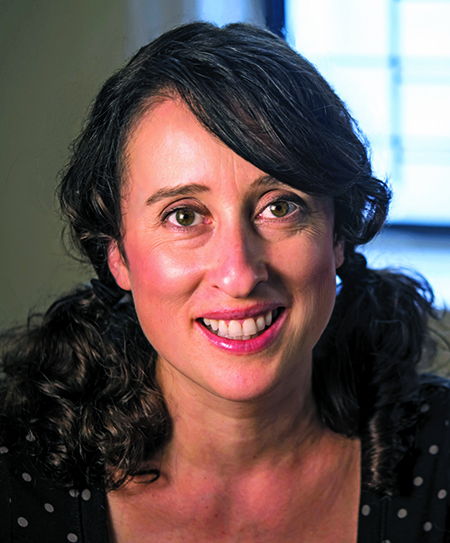 Then there is Sasha Goldberg, the lead character in Petropolis
, Anya Ulinich's 2008 debut novel that recounts an absurdist coming-of-age story. Sasha is so desperate to change her dreary post-Glasnost life in a Siberian mining town—named Asbestos 2—that, at 17, she becomes a mail-order bride. Raised by her non-Jewish mother after her Jewish father abandoned his family for life in the United States, Sasha nevertheless wants to find her father. (He has his own complex backstory: A half-African and half-Russian orphan, he was adopted by Jewish parents in Russia who later died in a car crash.)
Sasha immigrates to suburban Phoenix to be with her Red Lobster-loving, non-Jewish American husband—her first stop in a hilarious and poignant cross-country odyssey. Sasha leaves her husband and finds work as a maid for the Tarakans, a wealthy Orthodox family in Chicago who give her the job to teach her about Judaism; Sasha calls herself their "pet Soviet Jew." The Tarakans want to bring organized religion to the émigrés and help them connect to their Jewishness—which, in Sasha's case, is tenuous given her family background.
The disinterest in Jewish institutional life—and general disdain for religion—reflects the reality among most of the estimated 500,000 to 750,000 former Soviet Jews in the United States, says Shmulenson, a Russian immigrant himself. "We come from a culture where being part of organized life was demanded, so many people want freedom from anything organized." However, that is slowly changing, he says, as younger émigrés with children form groups that serve their own Jewish needs.
Ulinich, 44, who left Moscow when she was 17, explains issues of Jewish identity differently in her 2014 semi-autobiographical graphic novel, Lena Finkle's Magic Barrel: A Graphic Novel
. "In Moscow, you didn't have to try so hard to be a Jew," says Lena, the lonely, twice-divorced protagonist. "You were born with it. You looked a little different. Your name was weird."
Anti-Semitism was part of many aspects of Jewish life in the Soviet Union, a theme that several of the writers refer to in interviews. Litman, who teaches writing at the University of Connecticut, remembers having to find out which universities in the Soviet Union had quotas and which allowed Jews to matriculate.
Wanner and other literary critics have argued that the antipathy toward Judaism embedded in these writers' works makes the novels less Jewish. But what could be more Jewish than taking aim at both yourself and the organized Jewish community?
The writers describe varying degrees of personal involvement in Jewish life. Litman calls herself culturally Jewish. Ulinich, who lives in New York and works at the Forward newspaper, says she is an atheist who is uncomfortable with the role religion plays in being Jewish in North America.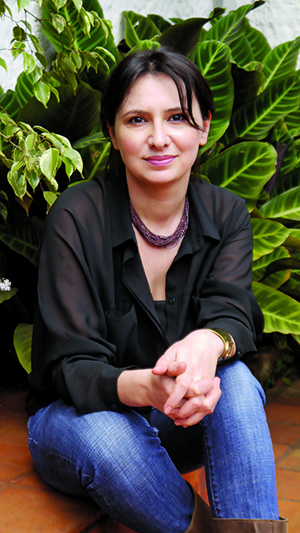 Krasikov, 38, sends her 6-year-old son and 2-year-old daughter to Jewish-run schools. It is important that their Jewish identity is not "based on anti-Semitism or persecution," Krasikov says. "So much of Soviet Jewish identity was precisely that, but it's really not a sustainable way to see yourself or your group." Though she tries to incorporate Jewish practice and tradition into her family life, she knows that for some émigré authors, reading and writing literature "is their way of being Jewish."
Indeed, Akhtiorskaya, who lives in Manhattan, counts Saul Bellow among her favorite American Jewish writers, while Krasikov finds inspiration in I.B. Singer and Cynthia Ozick. The work of immigrant writers such as Singer "showed how, when you adopt a new country, you're also adopting a set of cultural and philosophical inheritances that are in some ways at odds with those you already carry—and that you can spend a lifetime making the two 'inheritances,' or world views, coherent and never really succeed at it," says Krasikov. Born in Ukraine and raised in Soviet Georgia, Krasikov currently lives in Hastings-on-Hudson, N.Y.
While Russian Jewish immigrant tales currently are popular with publishers, critics and readers, Wanner wonders if the authors are "going to be able to reinvent themselves beyond their immigrant experience and stay interesting as fiction writers."
Time will tell, but it's helpful to recall that experts have long predicted the demise of Jewish literature in the United States. In the 1980s, Irving Howe developed what became known as the Howe Doctrine, which held that Jewish American literature would die out as Jews assimilated. Yet Howe was proved wrong as writers discovered new ways to explore the American Jewish experience—think of contemporary Jewish American novelists as disparate as Allegra Goodman and Michael Chabon.
Krasikov's most recent work hints that this group might be able to turn the same literary trick of moving beyond immigrant stories. In The Patriots
, a move to the Soviet Union is the historical saga's fulcrum. Florence Fein, a young Jewish American, leaves Depression-era Brooklyn for the Soviet city of Magnitogorsk, in part inspired by the lofty rhetoric emanating from the "workers' paradise."
It's an unusual story, Krasikov acknowledges, one that she based on the experiences of a family she met in the United States. But writing about atypical people is the best way, she says, to "shed light on the human condition."
Notable Writers—Works and Selected Honors
Yelena Akhtiorskaya Panic in a Suitcase
Honors: National Book Foundation 5 under 35 (2014); Sami Rohr Prize for Jewish Literature finalist (2015)
Nadia Kalman The Cosmopolitans
Honors: Emerging Writer Award from Moment Magazine (2010); Sami Rohr Prize finalist (2011)
Sana Krasikov One More Year;The Patriots
Honors: National Book Foundation 5 Under 35 (2008); Winner, Sami Rohr Prize (2009); Granta's Best Young American Novelists (2017)
Ellen Litman The Last Chicken in America
; Mannequin Girl
Honors: Los Angeles Times Art Seidenbaum Award for First Fiction (2007); The New York Public Library Young Lions Award (2008)
Irina Reyn What Happened to Anna K.; The Imperial Wife
Honors: Winner, Goldberg Prize for Jewish Fiction by Emerging Writers (2009)
Anya Ulinich Petropolis
; Lena Finkle's Magic Barrel: A Graphic Novel
Honors: National Book Foundation 5 under 35 (2007); Winner, Goldberg Prize for Jewish Fiction (2008); Sami Rohr Prize finalist (2009)
Lara Vapnyar There Are Jews in My House; Memoirs of a Muse; Broccoli and Other Tales of Food and Love; The Scent of Pine
; Still Here
Honors: Winner, Goldberg Prize for Jewish Fiction (2004); Guggenheim Fellowship (2011)
Peter Ephross is the editor of a collection of oral histories, Jewish Major Leaguers in Their Own Words.