Author Talk: Sana Krasikov of 'The Patriots'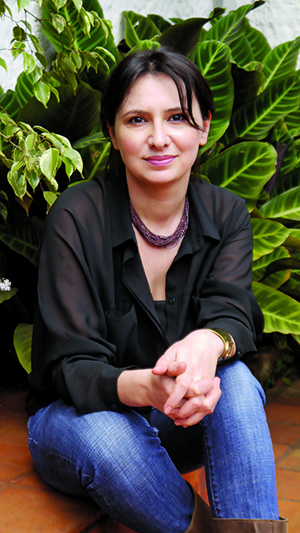 Sana Krasikov, 38, was born in Ukraine and immigrated with her family to the United States when she was 8 years old. Her 2008 debut short-story collection, One More Year, was about Russian and Georgian immigrants struggling to make it in America. Krasikov lives in Hastings-on-Hudson, N.Y., with her husband and their two children. The Patriots is her first novel.
Who was your inspiration for Florence Fein, the main character in The Patriots?
I was trying to trace the thread of a real story—the life of Pauline Friedman, my friend Timothy's mother—one of the first 'emancipated' coeds at Brooklyn College, who'd grown up in a middle-class Jewish home in Flatbush. In 1933, graduating into the teeth of the Great Depression, she boarded a steamer to Russia and didn't return for a half century.
Can you describe your research and whether it offered up any surprises?
I'd always assumed you had to be a brainwashed ideologue to do something that dramatic, but I was totally wrong. Pauline arrived alongside thousands of Americans bound for Russia in search of meaningful work, as the Soviet Union was industrializing during a time of global economic contraction. A scintillating, decadent, almost Parisian expatriate scene flourished in Moscow before Stalin's crackdowns.
Did your friend read the manuscript?
I was nervous about showing early drafts to him, but showed it to him anyway. There were things about the character that I didn't plan on whitewashing—her bad decisions, her betrayals, not to mention all the love scenes! My one condition was that I asked Timothy not to comment on anything until he'd read the story through to the end. He gave me complete freedom and space. I think he understood that there's something mysterious and sacred between a writer and her characters.
What was the most difficult section to write?
Nothing quite prepared me to write about the darkest period of Pauline's life: the years she'd spent in the Gulag. It wasn't until Timothy sent me a copy of his mother's secret dossier—which he'd obtained through methods not unlike those I write about in the book—that her journey became real for me.
Her file included mug shots taken shortly after her arrest. I'd seen other photographs of Pauline—she was an attractive woman—but here her face was bloated and aged, her eyes looked vacant of any hope, but she was still smiling as if she didn't want her incarcerators to know she'd been entirely defeated. That photograph hit me like a thrown gauntlet; I felt helpless to understand this woman and compelled to understand her.
What are you working on now?
I'm working on a novel about a 1970s Jewish housewife in New Jersey who becomes an accidental First Amendment advocate and whose work transforms the life of a 40-year-old grandmother from the Soviet Union. It's about that generation of women who were children as mothers, and felt that they 'grew up' only after they'd raised their own children.