'Gilmore Girls' Creator's New Show Stars a Jewish Housewife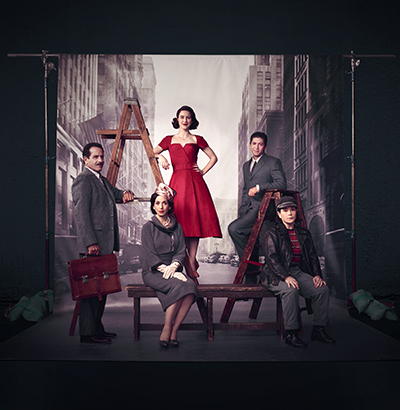 Miriam "Midge" Maisel, the heroine of Amazon's new original series, The Marvelous Mrs. Maisel, which launches November 29, has everything a young, upper-middle-class Jewish woman could wish for in 1950s Manhattan: a handsome husband with a good job, a son and daughter in the right order and a classic six on Riverside Drive in the same building as her attentive parents. She indulges her husband Joel's late-night attempts at standup comedy in a downtown club, but it's clear from the unorthodox toast Midge gives at their wedding that she's the one who knows how to play a room.
Although not above snacking or working on Yom Kippur, Midge's parents, in the Marvelous Mrs. Maisel's first episode, are invested in impressing the rabbi with an elaborate break-fast, but Joel, whose terrible timing extends beyond the stage, chooses Kol Nidre to leave Midge for his secretary. Midge embarks on a Manischewitz-fueled bender to the comedy club, where her spontaneous, unedited confessional leaves the room in stitches and club bartender Susie Myerson impressed enough to take Midge under her wing. Featuring sumptuous period detail, a witty, rapid-fire script by Amy Sherman-Palladino (Gilmore Girls) and stellar performances, the show traces Midge's reinvention as a comedian as she pushes the boundaries of a world that will strike contemporary viewers as both nostalgic, yet recognizable.
Rachel Brosnahan, who plays Midge, grew up in the predominantly Jewish Chicago suburb of Highland Park, in a family that did not identify with any religion. "Judaism is the most familiar I've ever been with any kind of religion," Brosnahan, who is not Jewish, says in an interview with Hadassah Magazine. "I'd spend the night at my friend's house, and the next morning we'd go to temple. I went to hundreds of bar mitzvahs. So when I read the script, I found myself not having to do any research. I appreciated the insider Jewish humor that doesn't apologize."
While the show's overall sensibility may feel familiar, Midge, who is not based on a real person, offers her own brand of comedy: brutally honest, primal, stream-of-consciousness screams of psychic pain that just happen to come out hilariously, often profanely. Trying to wrap her head around Joel's abandonment, she explodes the stereotype of prudish Jewish girls by describing her bedroom skills as the stuff to make French whores jealous. She gets right in the audience's faces, calling out one man for using the bathroom noisily and another for having chosen an obviously brainless wife. Her impromptu act ends with a move so shocking, it lands her in a jail cell next to Lenny Bruce, whom she cheerily bails out.
"This is a 1950s Jewish woman breaking the mold," says Alex Borstein, who plays club employee Susie and, coincidentally, also hails from Highland Park, where she was raised Jewish. "Normally a woman in that position would do anything to hang on to that marriage. It's so different that Midge is like, 'What do I want?' This woman is breaking every taboo. It's audacious and daring to say, 'Here's what women are thinking.' "
Borstein describes the Jewish Susie as very strong, wanting to be part of her own destiny and not just letting life happen to her. "I've always known most Jewish women to be that way," she observes. Certainly, Susie recognizes that impulse in Midge, and an unlikely friendship of opposites arises. "This feels like Mary and Rhoda, Lucy and Ethel," Borstein says enthusiastically. "What I'm most excited about is the possibility of someone like my daughter getting to watch a show that has two women who complete each other and help each other succeed. You don't get to see that a lot."
Acting as a counterweight to Susie's scrappiness is Midge's mother—the proper, cultured Rose. Marin Hinkle, the actor who plays the role, recalls reading her character's description: "The script said, 'She enters as if in her own MGM musical.' Part of what I was drawn to is this larger-than-life sense that she's in her own performance, maintaining this façade, this package. Rose is very educated, but there's a narrowness about her in that she has to believe her life is the right one. It feels threatening that her daughter is doing anything that's different."
And yet, judging from the way Rose quietly goes to bat for Midge against her own husband, the imperious but oddly ineffectual Abe (Tony Shalhoub), one senses that in a different time, Rose might have followed a similarly iconoclastic path. Hinkle says, "There's a different side of Rose that we don't get to see in this first season, but I believe Amy will let us see that part of her—a Rose that could have been."
Michael Zegen, who plays the feckless Joel, asserts that "it's technically a Jewish show, but I think it's universal. People keep asking me what it feels like to portray the villain, but I like him. He's a flawed individual who's also a product of the time. He's a little self-destructive, not to mention the fact that he thinks he's a great standup comedian, and really he's talentless. He's not as smart as Midge, not as funny. She's everything he's not."
Which is one of the most appealing things about the series. As Brosnahan points out, "Period pieces are generally about men, told by men, and this is different from that on every level. It's a period piece about a woman, strongly featuring a deep and genuine female friendship, written and directed by an extraordinary woman."
Joanne Sydney Lessner is the author of the novel Pandora's Bottle and writes reviews and features for Opera News and ZEALnyc