'The Gustav Sonata,' Excerpt from the Ribalow Prize Winner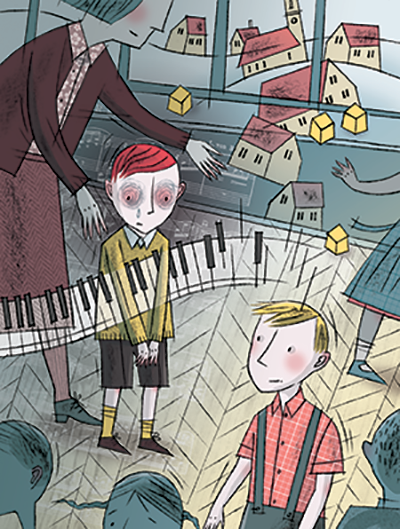 World War II has ended, but Emilie Perle proudly advises her 5-year-old son, Gustav, in Rose Tremain's The Gustav Sonata
, Hadassah Magazine's 2017 Harold U. Ribalow Award winner, "to be like Switzerland…be courageous, stay separate and strong." Emilie also teaches Gustav to emulate his dead father and learn to "master himself."
Though Gustav's life is economically and socially restricted, he befriends Anton, an anxious, weepy Jewish boy new to his kindergarten. In the following excerpt, we see the beginning of the intersecting journeys of an agreeable Swiss boy and his musical prodigy Jewish companion.
Anton Matzlingen, 1948
Anton arrived at the kindergarten in the cold spring of the year. He came into the schoolroom and stood by the door, crying. None of the children had seen this boy before. One of the teachers, Fräulein Frick, went to him and took his hand and knelt down and began talking to him, but he didn't seem to hear her. He just kept on weeping.
Fräulein Frick beckoned to Gustav. Gustav didn't particularly want to be the boy chosen to comfort this weeping child, but Fräulein Frick urged him to come towards her and said to Anton, "This is Gustav. Gustav is going to be your friend. He will take you to the sandbox and you can build a castle together before we begin our lessons."
Anton looked down at Gustav, who was slightly smaller than he was.
Gustav said to him, "My mother says it's better not to cry. She says you have to master yourself."
Anton appeared so startled by this that his sobbing stopped abruptly.
"There," said Fräulein Frick. "That's good. Go with Gustav, then." She produced a handkerchief and wiped Anton's cheeks. The boy's face was a hectic pink, his eyes big pools of darkness. His body was trembling.
Gustav led him over to the sandbox. Anton's small hand felt burning hot. Gustav said, "What kind of castle do you want to build?" But the boy couldn't answer. So Gustav gave him a spade and said, "I like castles with moats. Shall we start on the moat?"
Gustav marked out a circle and they began digging. A few other children clustered round them, staring at the new boy.
All his life, Gustav would remember vividly that first morning spent with Anton. They didn't talk very much. It was as if Anton was so exhausted by his weeping that he couldn't talk. He just followed Gustav around and sat very close to him at the work table and watched what he did and tried to copy him. When Gustav asked him where he'd come from, he said, "From Bern. We had a house in Bern, but now we've only got an apartment in Matzlingen."
Gustav said, "The place where I live is very small. We don't even have a kitchen table. Have you got a kitchen table?"
"Yes," said Anton, "we've got a kitchen table. I was sick all over it at breakfast because I didn't want to come here."
Later, Anton asked Gustav, "Have you got a piano?"
"No," said Gustav.
"We've got a piano and I can play it. I can play 'Für Elise.' Not the fast bit, but the first section."
"What's 'Für Elise'?" asked Gustav.
"Beethoven," said Anton.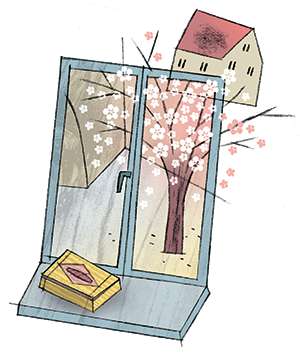 Perhaps it was the idea of Anton playing the piano with his small hands, or perhaps it was when Anton told him that his surname was Zwiebel, which was identical to the word for "onion," and made you feel sorry for him; whatever it was, there was something about Anton that made Gustav feel that he had to protect him.
The following day, Anton was crying again when he arrived. Gustav saw Fräulein Frick coming toward him, but he stood in her way and said that Anton would be all right with him. He led him to the Nature Table and showed him the silkworms that were being reared in a grocery box with a perforated lid. He said, "In the box we had before, the holes were too big and the silkworms climbed out of them."
"Where did they go?" asked Anton through his tears.
"They went all over the place," said Gustav. "We tried to find them and put them back, but some of them got trodden on. Treading on a silkworm is disgusting."
Gustav saw Anton smile, but then his tears welled up again
and he put his face in his hands.
Gustav asked, "What are you crying for?"
Anton stammered that he was crying for the loss of his friends at his old kindergarten in Bern.
"Are they dead?" asked Gustav.
"No. But I'll never see them again. I'm in this place now."
Gustav said, "I think it's stupid to cry for them, then. Isn't your mother angry that you keep crying?"
Anton took his hands away from his face and stared at Gustav. "No," he said, "she understands that I'm unhappy."
"Well," said Gustav, "I think it's a bit stupid. You're here now, so you just have to get on with it."
The bell rang for the beginning of morning lessons. Anton followed Gustav to one of the work tables. Pieces of grey sugar paper were put in front of them and boxes of crayons and they were told to start the day by drawing a picture of anything they liked.
Anton's tears slowly speckled the paper, like fat raindrops, but after five or six minutes, he stopped crying. "What are you going to draw?" he asked Gustav.
"I'm going to draw my mother," he said.
"Is your mother beautiful?"
"I don't know. She's just my mother. She works at the cheese co-operative, making Emmental."
Fräulein Frick rapped on her desk with a ruler. "You know the rules," she said. "When we're drawing pictures, we're silent. We talk silently to our pictures, not to each other."
Gustav wanted Emilie to be sitting at the kitchen shelf in his picture, so he drew the shelf first, a kind of oblong, resting on air. He coloured it brown. Then he began on Emilie's face, not a round thing, but a narrow kind of shape he didn't know how to make. He saw straight away that what he'd drawn was too narrow. He put his hand up and Fräulein Frick came over and Gustav said, "This was meant to be a face, but it looks like an ice-cream cone."
"Never mind," said Fräulein Frick. "Why don't you make it a cone? Put some nice strawberry ice cream into it."
There was something amusing about this—that Emilie Perle could suddenly become a cornet. Gustav whispered to Anton, "I was going to draw my Mutti but she went wrong. Now she's an ice cream."
And this was the first time that he heard Anton laugh. And it was the kind of laugh that couldn't be resisted; you had to join in, and suddenly the two boys couldn't stop giggling. Gustav suspected that Fräulein Frick was watching them sternly, but she said nothing and when he looked up at her—mastering his giggling at last—her expression wasn't stern at all, but just rather sweetly amused.
Gustav selected a pink crayon and drew a scribble of ice cream on his cornet. Then he looked over to see what Anton was drawing. He was using only a black crayon. He'd laid a small ruler on the sugar paper and drawn a line all the way round it. Inside the perfectly ruled shape was a series of black lines of differing lengths. Gustav knew what the thing was meant to be: it was a piano.
Gustav told Emilie about Anton's laugh. He said, "I like hearing it."
In the night, he began trying to think up funny stories to tell Anton, so that he'd be able to hear his laughter all through the day. And then he had an idea which surprised him—he decided to show Anton the treasure in the cigar box. He would show him because he thought that Anton would see that it was a collection worth hoarding. But Gustav wouldn't risk taking it in to the kindergarten. He asked Emilie, "Could we invite Anton Zwiebel for tea?"
"Zwiebel?" said Emilie. "That's a very peculiar name."
"He can't help his name," said Gustav.
"No. But names are important. When I first met your father and he told me his surname was Perle, I thought how beautiful it was and how I would like to become Frau Perle."
Gustav looked up at his mother. She was undoing her scraggly hair from the red handkerchief she tied it in for work, letting her hair fall round her face. Then, she smoothed it and patted it, as if, right then and there, she was preparing once again for that first meeting with a man called Erich Perle.
"On a Wednesday, we could invite him?" said Gustav. "On your half-day off."
"Anton Zwiebel. Well, I've never heard a name like that before. But yes, we can invite him—if his parents agree. I could make a Nusstorte, assuming I can get the walnuts at this time of year…"
"He might not like walnuts."
"Too bad. If he doesn't like them, he doesn't have to eat the Nusstorte."
It was late spring by the time the invitation to tea went out. It was agreed that Anton would walk from school to Unter der Egg with Gustav and that his father would collect him from Emilie's apartment at six o'clock. The father, it appeared, was a banker, who'd worked for a large national bank in Bern and now worked for a smaller branch of that bank in Matzlingen. The reasons for the move weren't explained. All Anton said was that everybody in the family missed living in Bern. Herr Zwiebel, the banker, missed his big bank; Frau Zwiebel, who was a housewife, missed the wonderful shops; and Anton missed his old friends.
Every May, in the courtyard at the back of the apartment, a white cherry tree bloomed. In this spring of 1948, perhaps because of the steady rains that had fallen at the end of winter, the flowers on the cherry were so abundant that the branches of the tree hung low toward the stones of the yard.
Gustav's window, where he played with his tin train, overlooked the cherry tree, and he saw how the residents who went in and out of the building by that route, almost invariably paused and stood staring at the tree, with its cargo of beauty, and sometimes reached out to it, as they might have reached out, in yearning, to a lost person. Emilie said that there had once been cherry trees at the front of the building, all along Unter der Egg, but they'd been torn out and now there was just this one tree in the courtyard. She said, "The tree is special for people, because it's lasted through all the upheaval—as certain things sometimes seem to do."
"What things?" asked Gustav.
"Well," said Emilie, "like that white dog you pointed out in the rubble of Berlin. It had survived."
"You said it might have found a good master or it might have starved to death."
"I know I did. But the point was, when everything around it had been destroyed, it was still there for a while. It had hung on."
So the wednesday afternoon of the tea arrived. Gustav enjoyed walking home in the sunshine with Anton. He felt proud, in a way that
he couldn't explain.
When Anton was introduced to Emilie, Gustav saw that his mother stared at him for longer than she would normally stare at people she met for the first time, and Gustav wondered what was going through her mind. She said, "You and Gustav go and play in his room for a little while, then we'll have tea and Nusstorte. I hope you like Nusstorte."
"I don't know what it is," said Anton.
"Ah," said Emilie. "Well, Gustav will explain to you."
They went to Gustav's room, where, at this time of the day, the sun was falling in a diagonal across the window, and Gustav said, "Nusstorte is a sort of pastry thing, with caramel and walnuts inside."
But Anton wasn't listening. They were standing at the windowsill, next to the metal train and Anton was staring down at the white cherry tree. He said, "Can we go down there?"
"To play in the courtyard?"
"I want to see that tree."
"It's just a cherry tree," said Gustav.
"Can't we go down there?"
"We'll have to ask Mutti."
Emilie said, "All right, but I'll come with you. I don't want you making a noise on the stairs. You remember Herr Nieder is very ill, Gustav?"
"Herr Nieder is our neighbor," said Gustav to Anton. "He's dying."
"Oh," said Anton. "Has he got a piano?"
"I don't know. Has he, Mutti?"
"A piano?" said Emilie. "Why do you ask?"
"Well," said Anton, "if he does, I could play 'Für Elise' for him."
"He might not want you to play 'Für Elise,'" said Gustav.
"He would. Everybody likes me to play that."
"Well, not now," said Emilie. "Let's go down very quietly, shall we?"
So they arrived in the courtyard and Anton stared at the cherry tree and his dark eyes widened. He ran to the tree and began to hop from one foot to the other and then to jump up and down, uttering little cries of joy.
Gustav stood very still, watching Anton. He decided that there was something connecting Anton's joy at the sight of the cherry blossom to his early-morning weeping at the kindergarten, but he couldn't say what. He went toward his friend and took his hand and together they began to skip round and round the tree, laughing until they were out of breath. Gustav had no idea exactly why he was skipping, but he knew that Anton knew and that seemed to be enough.
One or two of the apartment residents arrived in the courtyard and stopped to smile at the two boys dancing round the old cherry. Later, when Anton had gone home, Emilie said, "I suppose there may not be any cherry trees in Bern. It's unlikely, but one can't say for sure. Perhaps he had never seen one before?"
"I don't know," said Gustav.
"I think he is a nice boy," said Emilie, "but of course he is a Jew."
"What's a Jew?" asked Gustav.
"Ah," said Emilie. "The Jews are the people your father died trying to save."
Excerpted from THE GUSTAV SONATA
by Rose Tremain. Copyright © 2016 by Rose Tremain. With permission of the publisher, W. W. Norton & Company, Inc. All rights reserved.