The Shiva Dress: When Mourning Comes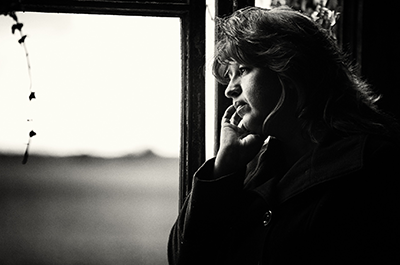 On a blustery day in February 2015, my mother called me in Israel to tell me that my father had congestive heart failure and that his death could be imminent. My father's doctor confirmed this prognosis. "If you want to see him alive, you should get on a plane to New York right now," he told me when I called to discuss my father's condition. "I don't think he'll live much longer."
A million thoughts flooded my brain: How soon could I book a flight? How would I complete my work assignments? And—as much as I hate to admit it—I was thinking about my wardrobe: What would I wear to the funeral and shiva?
Rending a garment just before a loved one's funeral service "is the most striking Jewish expression of grief," Rabbi Maurice Lamm wrote in his seminal work The Jewish Way in Death and Mourning. In fact, Jewish law commands the deceased's children, parents, siblings and spouse to rend their clothes in mourning. The custom dates back to the Bible: Jacob tore his garment when he saw his son Joseph's multicolored coat covered with what he thought was his son's blood, assuming Joseph was dead. David did the same when he heard of the death of King Saul, his father-in-law.
Rending a garment is "an opportunity for psychological relief," Lamm explained, because it allows mourners to vent their pent-up anguish in a "controlled, religiously sanctioned act of destruction."
Although I was determined to follow this moving custom—as my parents did when their parents died decades earlier—I felt an overwhelming need to control which garment I would be rending.
For starters, religiously observant mourners are expected to wear the same torn clothing throughout the shiva. The exception is Shabbat, when mourners are permitted to change into other attire. The thought of wearing the same sweaty dress or shirt for an entire week made me terribly uncomfortable.
Then I recalled a conversation about shiva I once had with my mother, who lost her own father when she was still in her 20s. She told me that she wore the same sleeveless dress during her mourning period but changed the shirt beneath it every day.
When my father became ill, I did a quick mental inventory of my wardrobe and concluded that I had nothing appropriate to wear. So on that winter day nearly three years ago, I ran—literally—to a nearby mall in the middle of a storm and bought a sleeveless black dress. I was about to pack it in my suitcase when my mother called: My father's condition had stabilized. I placed the dress in my closet. My father, a famously resilient person and survivor of the bombing of Pearl Harbor, where he served in the U.S. Army Signal Corps, improved enough to be discharged from the hospital into home hospice. He got well enough to walk unassisted to a nearby shopping center and to his beloved local library. He began to enjoy life again and I began to wear that new dress I had bought for happy occasions.
Fast forward to April 30, 2017, when my mother called to say my father had suffered a heart attack and the doctor didn't know whether he would make it through the night. This time I threw a different sleeveless black dress into my suitcase and flew to the United States. My father survived almost six more weeks and died on June 9.
On June 11, I finally wore my shiva dress. At the cemetery in New Jersey, just before the service, our family rabbi cut the left side of my dress—the part over my heart. He cut my brother's tie and then my mother's sweater, on the right side, the traditional place for a grieving widow. The rabbi instructed us to further tear the cuts with our hands, the way Jewish mourners have been doing for thousands of years.
That was the moment my yearlong period of Jewish mourning truly began. During this period, I am required to abstain from outward displays of celebration (such as attending a wedding), from going to movie theaters and concerts. I am also not allowed to buy any new clothes, a prohibition that's proving difficult every time I see a sale sign in a clothing store.
In a recent Huffington Post piece, "Let's Bring Back Mourning Clothes," Jana Riess noted that when previous generations—and especially the Victorians—donned traditional black mourning attire (for weeks, months and sometimes even years), it was an efficient way to tell others to give them a wide berth and show them respect because they had lost a loved one.
"If society judged Scarlett O'Hara harshly for dancing with Rhett Butler while her most recent husband was barely cold in his grave, well, it also gave those who felt truly devastated by death broad cultural permission to wallow for an entire year. And damn it, I need to wallow," Riess wrote about her mother's death. "I am betrayed by the very notion that the world outside my window dares to go on as usual. I ought to dress accordingly."
When I returned to Israel following my father's shiva, I discovered that many of my neighbors and friends didn't know of his passing (big fail, Facebook algorithm) and greeted me as if nothing had happened.
Every time this happens, I long, just for a moment, for my shiva dress.
Michele Chabin, an award-winning journalist, has reported from Israel for three decades.