Mending Fences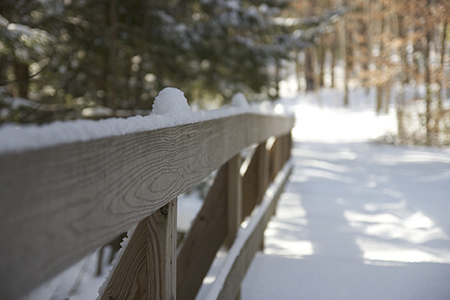 When the neighbor in Robert Frost's "Mending Wall" baldly asserts, in one of American poetry's most famous verses, "Good fences make good neighbors," the poet replies subtly that neighborly goodwill might just be more fundamental than a good fence. Such is also one of the lessons learned from the Hebrew root ג–ד–ר (gimmel, dalet, resh), fence, wall, hedge. Visitors to the northern Israeli town of Metulla learn all about הַַַגָּדֵּר‭ ‬הַטּבָה (ha-gader ha-tovah), the Good Fence, which for a time fostered cordial relations between well-intentioned residents on both sides of the border between Israel and Lebanon.
The root appears sparsely in Scripture. In one anecdote in the Book of Numbers, the prophet Balaam (sent to curse Israel) is seen riding through a narrow pass,‭ ‬גָּדֵר‭ ‬מִזֶּה‭ ‬וְגָדֵר‭ ‬מִזֶּה (gader mi-zeh ve-gader mi-zeh), "with a fence on either side of him." Suddenly, Balaam's donkey becomes so frightened by the appearance of an angel blocking his way that he veers off the narrow path and crushes the prophet's foot against the fence. One can guess who bears the brunt of Balaam's curses at this point. Again in Numbers, when the cattle-rich tribes of Reuben and Gad ask Moses for permission to settle outside the Land of Israel proper, they argue that they need to build גִּדְרֹת‭ ‬צֹאן (gidrot tson), fenced-in sheepfolds, for their livestock.
Elsewhere in Scripture, the Psalmist uses our root to introduce the term פּרֵץ גָּדֵר (porets gader), one who metaphorically breaks through a fence, a lawbreaker. Fancifully, the Hebrew language reverses the word order of the metaphor to create the term, גּדֵר פֶּרֶץ (goder perets), one who mends a breach in a fence. Among the dozens of Canaanite towns listed in the Book of Joshua as appropriate for settlement, the one called גְּדֵרֹתַּיִם (gederotayim), literally "double fences," invites conjecture about both its linguistic and architectural structures.
Today, the reflexive verb לְהִתְגַּדֵּר (le-hitgader), to distinguish oneself, has both positive and negative הֵגְדָּרת (hagdarot), definitions: One may set oneself off from others by excelling at something and one may do so by obnoxiously boasting about it.
If the reader will promise not לָצֵּאת מִגְּדֵרוֹ‭ ‬(la-tset mi-gedero), to lose his patience, with a far-fetched etymology, we'll conclude with the charming story of how the Hebrew word גִּדְרוֹן (gidron), wren—a little, sweet-singing bird often seen perched on a garden hedge—is derived from our root. According to Hungarian-born Canadian lexicographer Ernest Klein, the Hebrew word was coined by Yiddish writer Mendele Mokher Seforim, who translated it from a German expression for wren that means "king of the hedges." It turns out that good fences make good stories, too.
Joseph Lowin is the author of the recent book, Art and the Artist in the Contemporary Israeli Novel, a study of eight Israeli masterpieces.