Theresienstadt, in All Its Horrifying Details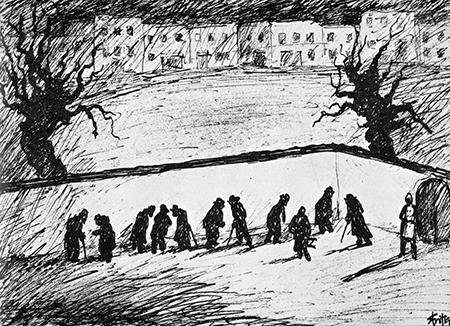 Theresienstadt 1941-1945: The Face of a Coerced Community
 By H.G. Adler. Translation by Belinda Cooper (Cambridge University Press, 857 pp. $125)
The Theresienstadt ghetto-concentration camp was established in early 1941 by Reinhard Heydrich, Heinrich Himmler's second in command. Prior to his assassination in 1942, Heydrich was also responsible for implementing the Final Solution. The Nazis publicized Theresienstadt as a home for the Jewish elderly and children, veterans of World War I and persons of notable accomplishment, promoting it as a model for Jewish settlement (hence its inaccurate moniker as a ghetto). The reality, however, was much different. The ghetto was run by the SS and always served as a deportation camp.
Among the "notable Jews" sent to Theresienstadt was H.G. Adler, a Czech Jew who was a German-language poet, novelist and scholar. Arriving there in February 1942, he was determined to record everything he witnessed. The result was Theresienstadt, a tome that covers the history, sociology and psychology of the camp in astounding detail. It was originally published in German in 1955 and influenced early major historians of the Holocaust such as Raul Hilberg. The translation of Adler's work for the first time introduces this seminal account of Theresienstadt to English readers.
When he arrived in the camp, Adler was horrified by the conditions: Prisoners were housed in dirty barracks and suffered from hunger and illness. Conditions improved when Himmler ordered the camp to be "beautified" before the June 1944 visits of the Danish Red Cross and the International Red Cross to convince those agencies that the treatment of the ghetto population was humane. During this period, which lasted until 1945, the reality of everyday existence for the Jews was hidden from outside visitors. Ultimately, the Nazis planned to deport the entire Jewish population to Auschwitz.
Adler describes the camp's hierarchy: A Jewish Elder—perceived as the ghetto's most powerful figure—headed a Council of Jewish Elders. In creating this system, the Nazis cleverly directed Jewish enmity toward its own leadership. However, the Jewish Elder—a position held at various times by Jakob Edelstein, Paul Eppstein and Benjamin Murmelstein—had to strictly adhere to Nazi orders. Even during "beautification," the Jewish Elder was responsible for ordering the Jewish police to round up a Nazi-dictated number of Jews to be deported to Auschwitz.
To a visitor, life might have appeared normal—there were concerts, lectures, sports and other events—but the Jews were living under a death sentence. The absurdity of this situation was exacerbated when the Nazi propaganda film The Führer Gives a City to the Jews extolled the conditions of Theresienstadt's Jews.
From late October 1942 through November 1944, when gassing in Auschwitz ceased, all transports from Theresienstadt were sent to Auschwitz, where Edelstein was killed. Eppstein was shot in Theresienstadt; Murmelstein survived. Adler, too, survived Auschwitz, though 18 members of his family were murdered there.
Jack Fischel is emeritus professor of history at Millersville University in Pennsylvania.