A Warm Welcome to Sugihara's Japan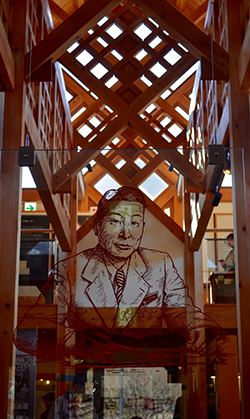 If you've been to Japan, chances are you've been to Tokyo and Kyoto. The lush, picturesque countryside that stretches between the current and former capitals is often bypassed, but it shouldn't be. Whether it's your first time outside the major cities or your first time in the country altogether, you'll likely find yourself surprised and enchanted by the majestic mountains, charming canal-lined villages, exquisite culinary delicacies and poignant history this region in the center of the island nation has to offer.
​It is also here, primarily in the Gifu Prefecture, where the newly inaugurated Sugihara Survivors Remembrance Route has been established, highlighting the Japanese diplomat's life and his "Visas for Life" program that saved thousands of Jews from war-torn Europe as well as other cultural and historical sites in the area. (Read more about Sugihara's war-time efforts and Japan's commitment to honoring him here.) The region boasts seasonal lantern and religious festivals; the fascinating Shirakawa-go, a traditional village that is a registered UNESCO World Heritage Site; and a plethora of restaurants, hotels and Ryokos, traditional Japanese inns, many of which are luxurious spas with hot springs where men and women separately enjoy multiple options of soothing, mineral nude bathing.
Amid the omnipresent Buddhist temples—some simple, others grandiose—welcome signs for Israeli and Jewish visitors are abundant: You'll find tourist brochures and maps printed in Hebrew, an occasional handwritten Hebrew sign displayed outside a local sweet shop and even a kosher version of sake, Japan's iconic fermented rice alcohol. The hospitality is epitomized by a mother and son, Eriko and Hiroki Arisu, who run separate businesses in the bustling city of Takayama but express the same genuine appreciation for, and welcome to, Jewish visitors.
After seeing an influx of Israeli visitors in recent years—local Takayama officials put the number at 10,000 last year—Hiroki Arisu decided to attain kosher certification for the sake he produces at his Funasaka Sake Brewery. He proudly describes the two-year process he undertook with the Chabad rabbi in Tokyo to get the kosher designation last September. It's so new, he doesn't yet know if the investment will pay off, but he's thinking he might even export it. His mother, Eriko Arisu, notes with equal pride that the chef and owner of the high-end traditional inn she manages, the Ryokan Honjin Hiranoya Kachoan, recently attended a special regional seminar to learn how to host Jewish visitors, specifically focusing on dietary needs and customs. "We are looking to host all visitors, including Jewish visitors," she says, "and make them feel welcome."
WHAT TO SEE
Chiune Sugihara Memorial Hall is as much about the Holocaust as it is about the Japanese diplomat and his life-saving visas, providing important context especially for local visitors without much knowledge of the atrocities in Europe and why Jews needed to escape. Part of the exhibition in the two-story cypress structure displays parallel panels, describing in detail the fate of those who were saved by the visas in contrast with those who weren't. The building's design and wooden structure is meant to represent a ship, reminding visitors of the boats the refugees arrived on as well as a vehicle of delivering Sugihara's message of peace and humanity to the world. Be sure to take time to walk through the adjacent park with its serene Hill of Humanity, a sculpture of 166 columns, representing the number of nations in the United Nations when the park was established in 1992.
Tsuruga's Port of Humanity Museum along the coast in the Fukui Prefecture focuses on the town's history as a haven, first for Polish orphans escaping famine in the 1920s, and 20 years later, for the Jewish refugees who arrived with their transit visas. Straightforward exhibits recount the facts, and a moving film describes the Jews' dramatic journey and profiles some of the families and their descendants saved by Sugihara.
Shirakawa-go is a historical mountain farming village that is both a living museum and the residence of some 600 people. Known for its distinctive architectural farmhouses with "gassho-style" thatched roofs resembling hands clenched in prayer and under which silkworms were once raised, the sprawling and fascinating village boasts cultural landmarks, rice paddies and restaurants serving famed Hida beef.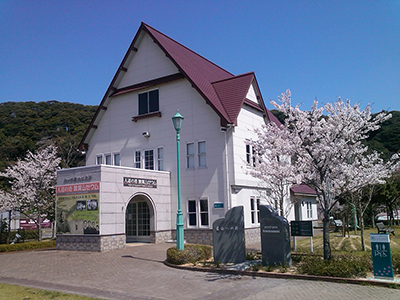 Hida Takayama, known as Little Kyoto, is a charming city that sits at the center of Japan. The Takayama Jimya, a government building complex from the Edo period (17th to 19th century), gives a sense of the government's operations and hierarchy, and includes a section with torture devices. Wooden houses decked with flowering vines line the narrow streets of the old city. A colorful morning market features vendors with fresh food, candy, utensils and local souvenirs. You can take a tour of the Funasaka Sake Brewery, and if you're lucky, meet the affable CEO Hiroki Arisu himself.
Magome-Juku, an old post town along the road that connected Tokyo and Kyoto, has been delightfully restored, with cobblestone streets, artisan food and gift shops and stunning views of the surrounding countryside.
RESOURCES
JTB Information Center offers special tours and information related to the new Sugihara route.
For more about traveling in Gifu Prefecture, go online here.
Yumi Fukao of Soy Travel Japan is a delightful, knowledgeable guide who speaks English well and provides private tours of the region.