A Distinctly Female and Jewish Moment in Theater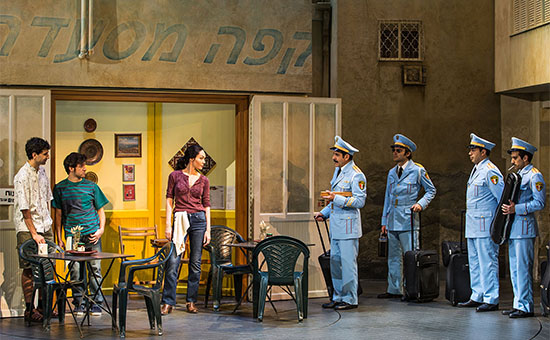 The Israeli woman onstage sings of lost opportunities and hope, of listening as a child to stories and music that, she croons, were "like honey in my ear, spice in my mouth." Now, however, Dina, in the Broadway musical The Band's Visit, is stuck in the dusty Negev backwater of Beit HaTikvah, where she is the strong-willed owner of the town's empty café. She and a ragtag group of townsfolk are waiting for something—anything—new to happen in a place described in song as "bleak and beige and blah, blah, blah."
And then something does happen—an Egyptian police band mistakenly ends up in the Israeli town. The show centers on the one night when the band members and the locals interact, a night that changes all of their lives. Played with acerbic wit by Katrina Lenk, Dina is the aching heart of the show's exploration of yearning and loss—and the importance of the stories we tell each other, and ourselves, about family, youth and romance.
Dina is not the only Jewish female character gracing the New York stage these days. Recent musicals have celebrated the lives of Jewish icons including Helena Rubinstein, in the recently closed War Paint, and Carole King, in the long-running, biographical musical Beautiful. And just before her turn as Dina, Lenk appeared on Broadway in the role of an actor playing a Jewish prostitute in last summer's complex and brilliant production of Indecent.
Yiddish-speaking brothel workers, Israeli café owners and American folk legends are just some of the story lines making this moment in theater feel distinctly female and surprisingly Jewish. It may also be a harbinger of something new to Broadway, where the Jewish legacy is well known but where the image of the Jewish woman once seemed fixed as the shtetl wife or the New York matchmaker-yente.
But why now, and who is driving this effort to present a more complex portrait of Jewish women? The explanation, most theater experts agree, comes from behind the curtain, where an increasing number of talented Jewish women are writing and directing fresh material—and winning rave reviews and Tony Awards for their work.
Beyond Broadway's marquees—bountiful enough to encompass The Band's Visit and revivals of classics with Jewish overtones like Hello, Dolly!—smaller venues are staging thoughtful Jewish shows featuring strong roles for women. Off Broadway's 20th Century Blues is about four older women, three of them Jewish, who gather to reflect on their decades of friendship. Amy and the Orphans, at New York City's Roundabout Theatre Company through April 14, follows Jewish siblings—one of them, the titular Amy, has Down syndrome—coping with their father's death.
So, are we really seeing a sea change in the inclusion of women in the theater?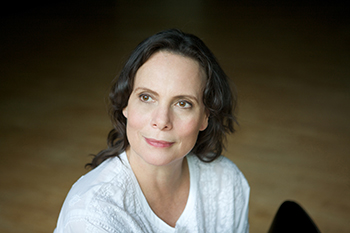 Yes and no, theater experts say. "This is an exciting time in theater," said David Winitsky, 46, of the Jewish Plays Project, an enterprise that helps emerging artists develop scripts that reflect their Jewish identity. "A new generation of women is really making their mark."
Rebecca Taichman—recently named the director in residence for the Roundabout—won a Best Director Tony in 2017 for the Broadway production of Indecent, which was written by Pulitzer Prize-winning playwright Paula Vogel. Susan Miller wrote 20th Century Blues, and Emily Mann directed it. Other Jewish women whose work currently appears on Broadway include Tina Landau, director of SpongeBob SquarePants; and Winnie Holzman, who penned the script for Wicked.
In particular, Winitsky said, there are more women leading nonprofit and regional theater companies all across the country, including Jewish directors Anna Shapiro of the Steppenwolf theater in Chicago and Daniella Topol of Rattlestick Playwrigths Theater in New York City.
"There is something in the air," Mann, 65, said. "Once, you could count on one hand the number of women in theater. Now there are so many more." But, she added, there is still a long way to go. The League of Professional Theatre Women estimates, for example, that women write only 20 percent of plays produced in the United States.
That feeling of two steps forward, one step back may be because female theater professionals are still catching up in a field long considered a boys' club, said Ronda Spinak, 59, artistic director of the Jewish Women's Theatre in Santa Monica, Calif. "As in many other disciplines, inclusion is slow—but happening. I believe more women are writing themselves into the story of American theater."
Mann recalls getting her graduate degree in directing at the University of Minnesota in the 1970s and being told "that women don't direct professionally."
"I am happy for the younger women," she said. "They do not have to break down those first doors in the field. They are now the second wave."
Mann's impressive resume includes playwright and directing credits on and Off Broadway. For the past 28 years, she has been artistic director of the award-winning McCarter Theatre Center in Princeton, N.J., whose core mission is to create a more diverse and inclusive theater culture. In Mann's experience, "women bring humanity to a production," she said, "and collaboration and the need to tell stories from all angles—that is something we excel at doing."
Taichman, 47, who worked under Mann as a director at the McCarter, is only the sixth woman to win a Tony for directing. Indecent was a passion project for both her and Vogel. Through Vogel's ambitious script, an intricate story unfolds—a play within a play that follows Sholem Asch's God of Vengeance from its creation and debut in Europe to its New York production and the indecency trial that brought infamy to its performance.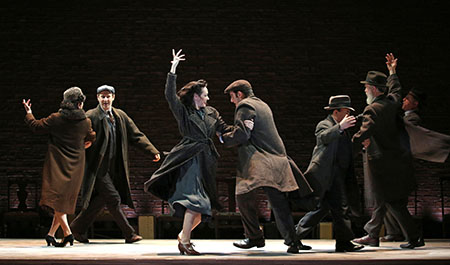 God of Vengeance came to Broadway in 1923, a time of virulent anti-immigrant sentiment targeted at Jews, and was the first play in the United States to stage a lesbian kiss. It was shut down on criminal charges of obscenity. The play follows Yankl, who runs a brothel in his basement, and his family. Yankl strives for respectability, commissioning a Torah scroll and trying to marry his daughter to a yeshiva student. His daughter, Rifkele, however, has fallen in love with a prostitute working for her father.
Vogel's script follows the actors back to Europe after the New York trial and closes with the troupe performing God of Vengeance in the Lodz Ghetto.
"I read God of Vengeance in graduate school, when I was 23," Vogel, 65, said via email. "It has stayed with me always. Rebecca Taichman called me about eight years ago and asked if I would write a play about the infamous obscenity trial in 1923. I immediately saw another play about God of Vengeance, a larger play that would span anti-immigration and censorship through the 20th century."
Indecent is currently running at the Guthrie Theater in Minneapolis through March 24, and the award-winning Broadway production of the play is available to stream at BroadwayHD.
Indecent is a game changer, said Winitsky, for highlighting women's experiences and for being conceived and brought to the stage by women. The show, he added, was about "telling stories—women's stories, Jewish stories—in a beautiful way."
And telling stories is what Jewish culture is all about, according to Mann, who is currently adapting for the stage the 2002 Oscar-winning Holocaust drama The Pianist as well as a show about feminist icon Gloria Steinem, whose father was Jewish.
"We are always telling stories as a people," she said. "Do you think it is a coincidence that there are so many musicians and dancers and writers who are Jewish? And women do not want to be left out."
Leah Finkelshteyn is senior editor of Hadassah Magazine.