Travel as a Spiritual Practice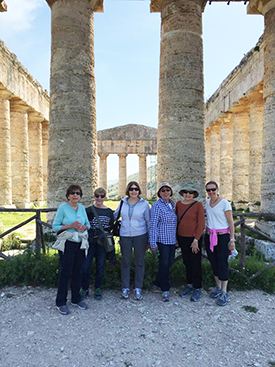 It was a journey within a journey. We toured Sicily while also making the metaphorical and spiritual voyage from Egypt to Sinai during the 49 days of the Omer, the ritual counting between Passover and Shavuot. Each night, a traveler on my 2015 tour of Sicily and Calabria would recite the Omer blessing and offer a reflection about that day's experiences or the next day's plan, linking our own stories to the larger one around us.
​That wasn't always easy, for instance when we visited the Capuchin Catacombs in Palermo. The subterranean network of naturally cooled corridors displays a fascinating, if macabre, co-mingling of bodily decomposition with daily paraphernalia. Dressed in their finest, with elaborately styled hair and bedecked with jewels and eyeglasses, corpses are preserved in lifelike appearance so locals could maintain a physical connection with their beloved dead.
​Our group from New Jersey, New York and Toronto reflected on this custom from a Jewish perspective: How do Jews handle corpses? Why do we rush to bury? What do catacombs evoke that cemeteries can't? What awaits us in the afterlife?
​Next up was Segesta, a beautifully preserved Greek archaeological site in the northwest of Sicily boasting rolling green hills, blankets of yellow flowers and majestic mountains with views down to the sea. Perched atop an unspoiled hill stands a Doric temple framed by 36 towering columns, the space between each allowing the visitor (and the ancient worshiper) to contemplate the mesmerizing panorama. Architectural detail or spiritual technology?
​Standing in the center of the temple, our group took a Jewish lens to that question. According to the Talmud, we reminded each other, "a person should only pray in a house with windows." How do windows affect the experience of prayer? Why must our eyes be open to the world's beauty, and to its pain, during prayer?
​These are weighty questions to consider on vacation. Most people don't go on holiday to contemplate death or prayer. And yet, we emerged from the catacombs more attuned to our mortality and we descended that Segesta hilltop with a renewed commitment to the possibilities of a reflective life.
​Vacations lure us from the familiar scenery and routines of our everyday lives. But pilgrimages—intentional, contemplative journeys—are all about coming home. Travel as a spiritual practice prompts introspection even as we behold new terrains and cultures.
​"I was a different person at the end of the trip," said Jim Cowan, who participated in a tour I led to Berlin and Krakow in 2014. "I was a person that I liked more. It took me a long time to fully understand how much I had been transformed from that spiritual trip."
​In The Art of Pilgrimage, author Phil Cousineau explores the differences between tourists and pilgrims. Tourists bring home souvenirs; pilgrims leave pieces of their wandering souls, tokens of gratitude for a moment of discovery. Tourists photograph how something looked in the past; pilgrims sketch—in words, melodies or deeds—the way a scene inspires their future. Tourists plan and control their itinerary; pilgrims allow themselves to be taken where the heart and spirit lead. "A journey without challenge has no meaning," Cousineau reminds us. "One without purpose has no soul."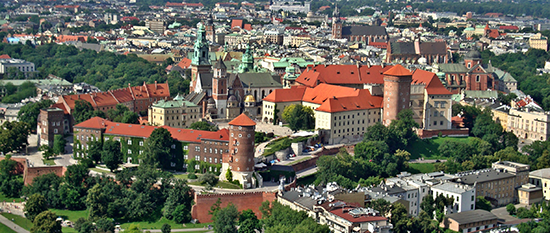 What market researchers  refer to as faith-based travel is a $100-billion-and-growing annual business, according to estimates compiled by the World Travel Organization. Each year, more than 300 million people around the world embark on soul treks to attractions as disparate as Sikh shrines, Catholic holy sites and the major Christian, Muslim and Jewish spots in Israel and beyond.
​For more than 10 years, as a rabbi and Jewish community leader, I have been privileged to help people gain a deeper understanding of themselves by using travel as a setting for meaningful Jewish learning and engagement. I've guided groups through Argentina, Cuba, Panama, Berlin, Krakow, Sicily and Calabria, Croatia, Montreal and Israel.​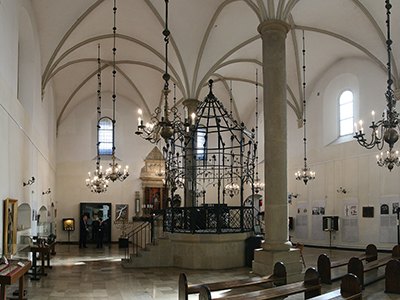 "Jewish Remembrance and Renewal" was the name of the 2014 trip to Berlin and Krakow. Lush green lawns, yacht clubs and golf courses belie the atrocities that emerged from Wannsee when, in 1942, at its famous lakeside villa in southwestern Berlin, the Final Solution was launched. Our group of 22 adults from northern New Jersey and New York visited on Yom Hashoah, Holocaust Remembrance Day. After touring the site, we sat on the back terrace in the warm sun overlooking the water. In this disturbingly serene setting, we chanted from Megillat Hashoah-The Scroll of the Holocaust, a modern liturgical text with six chapters in memory of the six million that was composed to be chanted on this day. Learning to embody the combined posture of devastation and defiance would serve us well as we explored sites of destruction and renewal throughout Berlin and Krakow—none more so than the notorious Nazi extermination camp.
​Auschwitz-Birkenau can be a disorienting place to spend Yom Ha'atzmaut, Israel's Independence Day. The alchemy of emotions proved redemptive as we traveled only 38 miles from the horror-filled camps to lively celebrations at the Jewish Community Centre of Krakow. There, we met Jews and Poles who were hopeful that the Shoah is part of a longer story of Jewish-Polish relations that would ultimately prove positive.
​The wonder of nature can be another tool to access spirituality. In 2016, I led a group to Croatia, a country along the Adriatic Sea encompassing more than 1,000 islands and abundant natural beauty. Where did our ancestors encounter the Divine before people caged gods in temples, synagogues, churches and mosques? In sanctuaries like Croatia's Plitvice Lakes National Park, which amazes visitors with terraced crystal blue lakes, cascading waterfalls and verdant trails. In this spectacular "synagogue," I invited travelers to pause when in the presence of an imposing mountain, modest tree or fragrant flower and to recite the appropriate prayers thanking our Creator for those wonders. Would relating to the park as a sanctuary in which to encounter the Divine make Jewish spirituality a more compelling frame for living? Can we better understand why the Torah was revealed out in nature?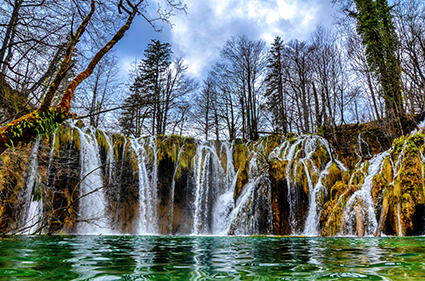 The day before, we had gathered on the roof of our hotel high above the nearby city of Split to end Shabbat with havdalah, the afternoon sun sinking into the Adriatic as the outline of Diocletian's Palace began to fade. Then, in the tradition of Reb Zalman Schachter-Shalomi, I got up from my chair and sat elsewhere, leaving the rebbe's chair open for others to assume the role of teacher. One by one, travelers sat in that chair, including our Christian Croatian guide, and spoke with reverence about their own experiences of transformation and renewal.
​"Travel is always broadening," said Sherry Kelner of Toronto, remembering her experiences on that trip, "but traveling Jewishly puts context not only to the past but to the present and sometimes to the future. Nowhere was that more evident than when I sat in the rebbe's chair overlooking Split."
​At the end of each trip, we take the most important step. We come home. We unpack the deep discussions and compelling sights. We depart seeking our most valuable treasure and return to find it in the very homes we left: our precious, renewed and expanded souls.
SICILY
The physical remains of the Jewish Quarter of Palermo mostly lie buried under the layers of concrete used to build over them. Still, a walking tour (reach out to Visit Sicily for Palermo tourism guidance) explains where and how Jews lived and intersected with their Christian neighbors. A knowledgeable guide can point out Hebrew inscriptions on formerly Jewish buildings. In 2017, the local church transferred ownership of the building standing atop the ruins of Palermo's Great Synagogue to Shavei Israel, an outreach organization strengthening ties between Israel and resurgent Jewish communities, with plans for a heritage and study center.
Billed on its website as the place where the living meet the dead, the Capuchin Catacombs might be the Palermo attraction that best translates historical local customs—especially dress—to fascinated visitors.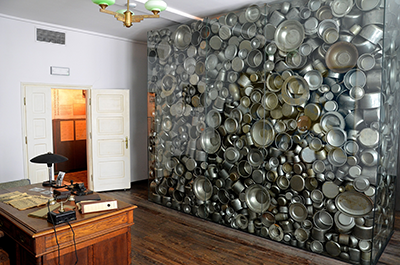 One of the major Sicilian cities of the ancient, indigenous Elymian people, Segesta boasts spectacular and well-preserved archaeological sites, including a Doric temple and amphitheater.
KRAKOW
Established in 2008 with the support of Britain's Prince Charles as a gathering place for the city's Jews as well as non-Jews interested in Jewish culture, the Jewish Community Centre of Krakow seeks to strengthen and perpetuate Jewish life in Krakow.
Oskar Schindler's Enamel Factory now houses the permanent exhibition "Krakow Under Nazi Occupation, 1939-1945." The story of Schindler and the more than 1,000 Jews he saved is presented alongside the history of the city's citizens under Nazi rule.
Krakow's Remah Cemetery and New Jewish Cemetery contain the burial sites of famous Polish Jewish leaders. The Remah, or Old Jewish Cemetery, takes its name from Rabbi Moses Isserles (known as the Remah), whose tombstone is one of the few intact.
The seven historic synagogues in the Jewish area of Kazimierz south of Krakow's old town are considered some of the finest examples of Jewish sacred architecture anywhere. The 15th-century Old Synagogue is the oldest Jewish house of worship still standing in Poland.
Held annually each summer, the Krakow Jewish Culture Festival began in 1988 and today offers close to 300 workshops, lectures, guided tours and various musical performances.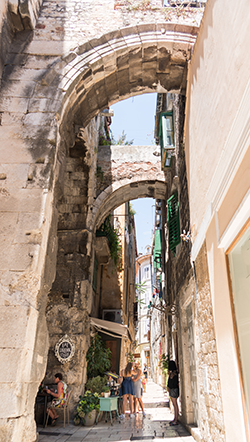 CROATIA
Lea Altarac leads Jewish tours of Split.
A massive fourth-century Roman palace that today encompasses the old city of Split, Diocletian's Palace is a must-see. Jews from nearby Salona found protection in the palace sometime in the seventh century after fleeing persecution; scholars point to menorahs etched on stone blocks within the palace walls as evidence of their presence.
Plitvice Lakes National Park is a breathtaking forest preserve comprised of 16 lakes, waterfalls, a limestone canyon and walking and hiking trails.
Rabbi Adina Lewittes is the founder of Sha'ar Communities in northern New Jersey, where she offers creative portals into Jewish life. She is also an interim rabbi at Congregation B'nai Jeshurun in New York City. To learn about upcoming trips she will lead, email rabbi@shaarcommunities.org.