#MeToo and the Holocaust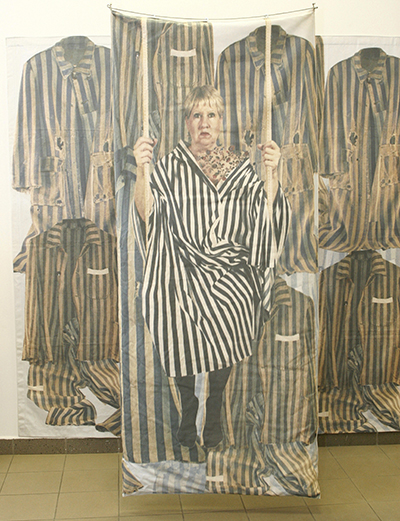 For months, the media has been full of stories about sexual violation, with women speaking out against aggressors in a massive #MeToo movement. Three hundred prominent Hollywood women announced a Time's Up campaign in January, aimed at correcting a power imbalance in the workplace and helping less privileged abuse victims with issues such as legal defense.
These reports of sexual violation began to break as Remember the Women Institute was in the process of organizing a Manhattan art exhibition, "VIOLATED! Women in Holocaust and Genocide." It is hard not to connect this exhibition, planned well before the headlines, to the allegations of powerful men's sexual abuse of less powerful women today. Yet, as women have been testifying to various forms of sexual abuse in peacetime—from Hollywood to Washington, from the university campus to the Olympics, from the board room to the newsroom—this exhibition reveals acts of sexual violation against women in much more vulnerable and severe circumstances: during the Holocaust and later genocides.
Not only could Nazi victims not speak out, they were often murdered. In most cases, their tormentors' names were unknown to them. If they survived, these victims frequently kept quiet because of an unwarranted sense of shame. The relatively few courageous women of that generation who spoke up were sometimes silenced rather than encouraged. There was no precursor of the #MeToo movement for Holocaust survivors, and this situation has not changed much for the victims of later genocides.
Although early Holocaust memoirs from the 1940s mentioned sexual violence, the subject quickly seemed to disappear. The focus was on the murder of six million Jews, not on the horrors inflicted on individual women. Twelve years ago, during my talk to teachers at the Yad Vashem Holocaust memorial in Jerusalem, a prominent Holocaust scholar interrupted me to challenge my statement that Jewish women were raped at Ravensbrück women's concentration camp. He insisted that Jewish women were not raped during the Holocaust. This encounter became a call to action for me and for Sonja M. Hedgepeth, a professor of German at Middle Tennessee State University. The result was the book we edited, Sexual Violence Against Jewish Women During the Holocaust. 
As proven in our book and other publications, in documentary films and in recorded testimonies, including by the USC Shoah Foundation, it is a fact that rape, forced prostitution, sexual humiliation, sex for survival and other forms of sexual violence were prevalent under Nazi rule.
Not only was there forced prostitution in official Nazi brothels, but Nazis and their collaborators also kept personal sex slaves. The camp induction process itself was sexually violating. Sometimes women were forced to provide sexual favors to Nazis, collaborators or other prisoners in exchange for bread or some other necessity for survival. Even some Jewish ghetto leaders were complicit, hoping to prevent deportations by providing the Nazis with young women.
Art is one fitting way to confront this subject, and "VIOLATED! Women in Holocaust and Genocide" permits viewers to relate to what happened to women during the Nazi regime and later genocides. On display are 45 artistic representations in various media by 30 artists, more than half of whom are Israeli, as is curator Batya Brutin, an expert on Holocaust memorial and visual art. Additionally, one installation about later atrocities was created by Israeli artist Gil Yefman and four African refugee women working in the Kuchinate collective in Tel Aviv. The artwork representing the later genocides—including those in Bosnia, Darfur, Eritrea, Guatemala, Nigeria, Rwanda and Iraq, against the Yazidi—is evocative of the sexual violence experienced by women during the Nazi era. In each depiction, the artists convey victims' suffering, humiliation and pain with jarring graphics and a somber, dark palette.
This exhibition, along with a print catalog and free digital catalog, aims to educate viewers about sexual violence during past and present genocides, while seeking to help prevent it in any form in the future.
Rochelle G. Saidel, founder and executive director of Remember the Women Institute in Manhattan and exhibition coordinator, has written or edited seven Holocaust-related books. "VIOLATED! Women in Holocaust and Genocide" runs April 12-May 12 at the Ronald Feldman Gallery in Manhattan.